Soft Skills Refined in Bronx First Ever Student Networking Event
Per Scholas is best known for our involvement with technology. For over twenty years, we have provided tuition-free technical training in our vigorous IT courses. In addition, Per Scholas is also heavily focused on workforce development. For our students, polishing their soft skills is just as important as acquiring technical skills. This combination will make them the most marketable version of themselves when entering the technology workforce.
During our courses, students are encouraged to find networking events on their own and explore other professional opportunities to deliver their 60-second pitch. At the Bronx Per Scholas site, Career Advancement Manager Janice Reid often received feedback from students that they were too shy or intimidated to strike up a conversation with a stranger at an event. After receiving this information, Janice came up with the idea to host a networking event of our own at Per Scholas. This would create a comfortable space for new students and soon to be graduates to practice their soft skills.
Janice Reid turned her idea into a reality with the first-ever networking event in the Bronx on Tuesday, August 8. She received a lot of support from her co-workers Craig Rosenberg (Director, Career Advancement), Chris Stone (Associate, Alumni Engagement), Jose Jurado (Senior Manager, Career Advancement), and Giselle Jaquez (Manager, Corporate Engagement). Because it was the first time an event like this was ever done, Janice and her team had many goals they hoped to accomplish.
Students were told to draw a name from a jar. They then were instructed to deliver their 60-second pitch to that person. In addition, an ice breaking activity was conducted at the event. Janice said she also expected the event to help newer students meet and get advice from the graduating students. These goals were exceeded, as Janice told a story of a young man who attempted to leave the event because he was shy. With encouragement from Janice, he was able to make two new friends.
The 60-second pitch is the best way for our students to highlight their skillset. It's intended use is to express how they stand out from other job candidates. Janice says, "Specifically, for Per Scholas students, why are you making the transition into the tech industry? What is the bridge that took you from where you were to where you are today?" Besides the 60-second pitch, we hold mock interviews and implement a zero-tolerance policy at Per Scholas. Students come back to Janice and tell her that the mock interviews in class are harder than the real interviews they have had.
Networking events like the one held on August 8 are essential for our students to learn professionalism and how to brand themselves. As Janice puts it, "You can have all the certifications in the world. You can have all the tech knowledge in the world. But if you cannot sell that tech knowledge, if you cannot go out and brand yourself properly and sell yourself, you and your tech knowledge will be on the couch. At the end of the day, you've got to be able to sell yourself, have those soft skills, and show them how great you are, not only as a technician, but as a person."
Sign up for our Monthly Impact Report
More News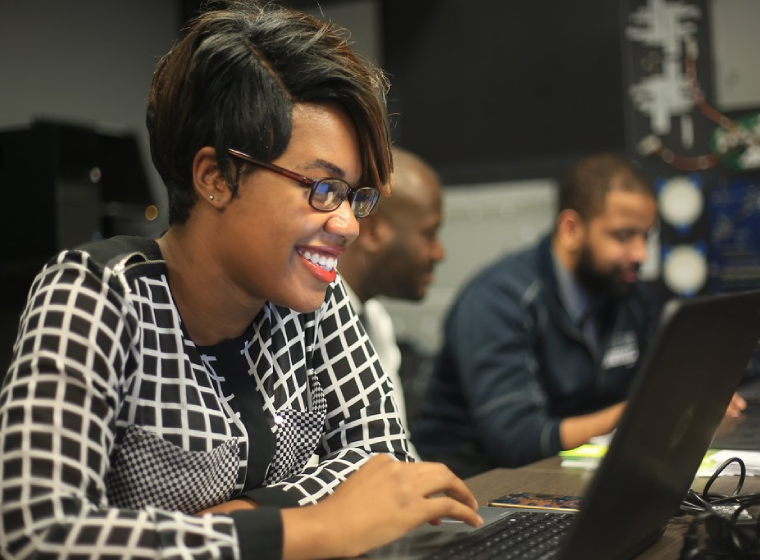 Donate Now
Your support makes a powerful difference in our ability to build a technology talent training solution that creates greater access and equity.