Student of the Month: Janea Wilkerson
Were some of you wondering whether we train any women at Per Scholas?… You bet we do. Janea Wilkerson is the September student of the month and couldn't be more proud to be the first woman featured.
I personally had never met a female tackle football player until I met Janea. I didn't know a professional female league even existed. Janea enlightened me with a full history (the New York Sharks is one of the best franchises in the nation). Janea is familiar with pursuing a male dominated dream. Whether sports or the tech industry, she faces the gender disparity head on. "If anyone out there ever tells you 'You cannot do,' you can do. That's how I live."
It's a message more women need to hear. The CRA Taulbee Survey found less than 12% of Computer Science degrees were awarded to women in 2010-11. Where my girls at?! Twelve percent is alarming. The Fifth & Pacific Foundation (formerly Liz Claiborne) and New York Women's Foundation are committed to empowering women and provide dedicated funding to help Per Scholas serve more women to address this disparity. In our first year offering a women-only program option, more than 100 women enrolled, just under a third of the student population. Interested in applying for courses? Click here.
Janea started class with a knee injury. She tore a ligament while playing football. If you have lived in New York City with any restriction on your mobility, even for a short time, then you can probably guess what Janea endured to travel an hour by subway, making it on time to training each morning. The doctor told her to stay off stairs: for most of us, New York City is stairs, stairs and more stairs.
But being in the classroom was Janea's top priority. "I have a lot of college debt and still no degree. You are going to teach me — at no cost? — I'm going to be there." She was drawn to technology in particular after helping a nonprofit create its website. "I would forget to eat lunch, go to bed. Time would just pass working on this stuff and that is when I realized I was hooked." She came to Per Scholas to learn much more, to open the world of technology and begin seeing firsthand how it all worked.
Seeing Janea's potential, her instructor Obinna has helped her learn more about network administration and web hosting, key skills to bookend her web design savvy. "I feel he intentionally throws things into his sessions meant just for me. He'll be like 'this can be used for USER WEB HOSTING. WEB HOSTING…' look right at me, smirk, and then carry on. It means a lot to have that encouragement."
Today, with a few weeks left to go, Janea has already completed and passed Part One of her A+ certification. Part two is next, followed by the MCTS.
Oh — and then there's that pesky surgery for her knee on November 1. With a nervous smile, she sees the extra deadline as one more motivation to finish everything she came to Per Scholas to achieve. You go, girl!
Sign up for our Monthly Impact Report
More News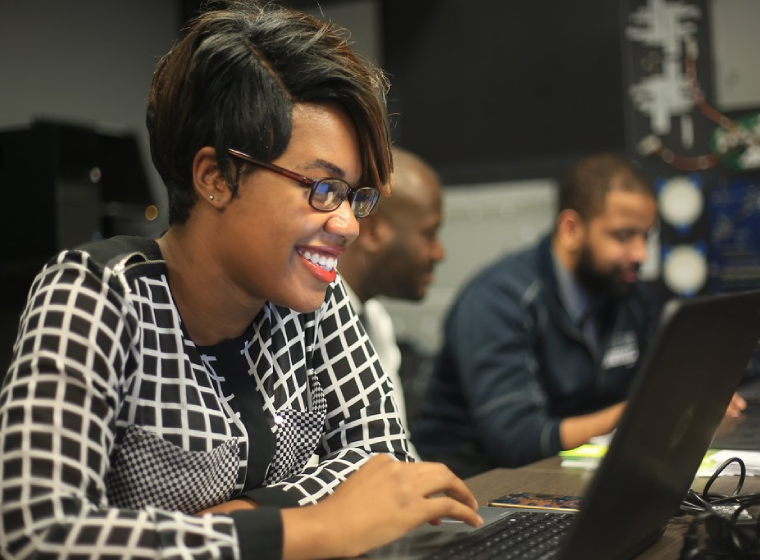 Donate Now
Your support makes a powerful difference in our ability to build a technology talent training solution that creates greater access and equity.