Student of the Month: MaryBeth Cornell
"Hi, Marybeth. I'm calling to let you know you've been selected to speak at the White House event this Friday, January 31."
Marybeth Cornell, 2013 Per Scholas graduate, would not have previously considered herself "White House speaker-worthy" prior to January 31. Why her? In her eyes, she identifies with a lot of Americans. A mother, a hard-working professional, and someone who was hit by the recession and laid off from her job. Marybeth was unemployed for two years. Her story is similar to nearly 4 million long-term unemployed Americans who have received recent attention from the Obama administration and national media.
To address the issue of long-term unemployment, the White House convened an event with some of the nation's largest employers, nonprofit service providers like Per Scholas, legislators, and President Obama and Vice President Biden. Per Scholas submitted nominations of program graduates to speak at the event and it was Marybeth's story that rose to the top, one of only four in the nation invited to speak on the panel. Marybeth participated on the White House panel discussion moderated by the Secretary of the Department of Labor Thomas Perez to address solutions to serving the long-term unemployed. Per Scholas, and Marybeth, were honored to be invited and considered a leader in addressing this crippling issue.
Marybeth's story is about perseverance and its vital role in the formula to getting hard-working Americans back to work. What happened in the recession was not just a loss of jobs and mass layoffs. Millions of Americans experienced a loss of self worth, self confidence, purpose, and hope. "Per Scholas was hard and it was also a very trying time for me personally. Per Scholas told me to push through and keep fighting — that every day is a day to continuously improve yourself. I needed to hear that."
Marybeth had been a graphic designer for 20 years when she left the workforce to raise her son, a child with special needs. In the mid-2000s, after 10 years of raising her son, she tried to re-enter the labor force. Finding her skills were out of date, she went back to school, and got a job in 2008. A few months later, the recession hit the company, and she was laid off. Marybeth searched for a job for two years, and found herself under significant financial strain. Finally, a friend recommended Per Scholas. Had it not been for her unemployment benefits, Marybeth shared, she would not have been able to attend.
At Per Scholas, Marybeth joined a class of 20 others for 15 weeks of intensive IT job training and career development. Students come everyday, Monday through Friday, for class that runs 9:00 a.m. to 4:00 p.m. taking in material that moves at lightning speed. The course is challenging for any kind of student but for Marybeth it was accompanied with numerous personal strains that caused her to nearly give up and drop out of the course midway. This is why, in addition to our technical instructors, each student also works with a career development coach. The career development course is one day out of the training week and focuses on resume writing, interview preparation, effective job search and networking, and personal professional development. In addition to the classroom time, the career developers work one-on-one with the students privately to address bigger barriers like confidence, depression, and how to work past the years of discouragement that have built.
"My generation didn't network. Facebook and social media didn't exist before. LinkedIn wasn't around," Marybeth shared. "Networking wasn't a standard method to finding employment and in my opinion, for many unemployed Americans this is very troubling."
Over the course, Marybeth created a LinkedIn page and learned how to be proactive about networking. She even wrote — and got a personal response from — Gary's Guide, the number one networking resource for the tech industry in New York City with thousands upon thousands of subscribers. "The most remarkable aspect about interacting with most of these businesses is that I reached out myself. I initiated the conversation. That was (and still is) a huge achievement that Per Scholas fostered through its emphasis on networking."
Rebuilding confidence was key in Marybeth's transformation. Per Scholas gave her the opportunity to earn the CompTIA A+ certification, an IT industry certification for entry-level technician careers. During the White House panel, Marybeth credited earning this credential as the defining achievement that led her to believing she did have something to offer an employer, and she had proof of it. Something she could physically show them. "At Per Scholas, I worked very hard to get a certification and it made a very big difference."
Following her 15-week training Marybeth was accepted into an advanced course offered at Per Scholas in partnership with many industry partners like Barclays, Qualitest and Satisfice to be trained for jobs in software testing — STEP. Last month, after Marybeth completed STEP, she accepted a full-time job as a Junior Software Tester with Qualitest, our newest employer partner. The position has high potential for earning increases in the next two years.
"QualiTest is enjoying substantial growth," said Yaron Kottler, CEO of QualiTest Group US, who accompanied Marybeth at the White House event. "We've been hiring 50 employees every month, and it's a great boon to our company that we can take on a group of hand-picked individuals who've been trained by the likes of James Bach and Paul Holland. This is huge win-win – it's a great opportunity for us as well as for the graduating testers themselves."
At present, Marybeth's commute is 2-1/2 hours each way — a sacrifice worth it to her. "I cannot describe my feeling in any other way than total pride. Being offered a position is like saying to someone: We recognize that you would be a valuable asset to our company. You have something to offer."
That is the same message President Obama sent to the employers of the nation during his address on January 31. "We can't afford to let such incredible talent be wasting away […] We're going to keep encouraging employers to welcome all applicants. You never know who is going to have the next great idea to grow your business […] It's good for our economy, but it's also good for our people."
President Obama signed a Presidential memorandum to make sure that individuals who are unemployed or have faced financial difficulties through no fault of their own receive fair treatment and consideration for employment by federal agencies. Vice President Joe Biden met with the best programs providing training for the jobs that exist today, and Per Scholas was one of those programs. The Vice President spoke personally with Plinio and is committed to supporting our program and more like it to serve as many people like Marybeth in order to fill the roles with companies like Qualitest — who project to have the need to hire dozens of new software testers every month in the coming year.
Per Scholas thanks itsemployer partners who hire our students based on talent and work ethic alone and do not discriminate against work history gaps and other barriers that play no part in one's performance. Qualitest, Marybeth's employer, joined the discussion at the White House, as did long-time employer partners ASI System Integration, Time Warner Cable, and JPMorgan Chase. We are honored by the invitation of the White House and thankful to Vice President Joe Biden for his attention to ensuring every person like Marybeth in America gets back to work.
Sign up for our Monthly Impact Report
More News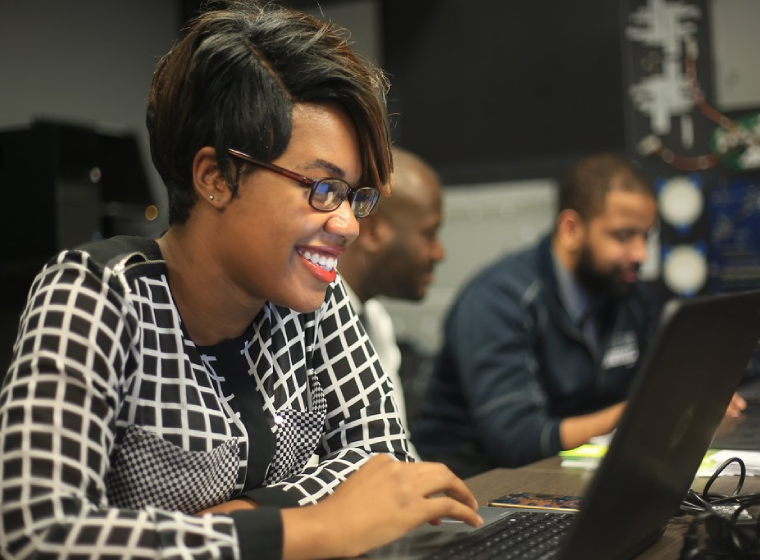 Donate Now
Your support makes a powerful difference in our ability to build a technology talent training solution that creates greater access and equity.