"This is the most fun I've ever had at a nonprofit event!" Imagine Gala 2015
Last night, May 12, 2015 was the annual New York Per Scholas event, the Imagine Gala. Sponsored by Control Group, JPMorgan Chase and the Per Scholas Board of Directors, nearly 400 guests — largely from tech and finance — came out to support Per Scholas.
Guests enjoyed wine and appetizers in the beautiful City Winery. They wrote messages on the Imagine Wall and enjoyed the photo booth.
The sensation of the night was the student-run Tech Challenge. Our students got to show off their skills to professionals from Goldman Sachs, Bloomberg, Barclays, and many, many more while creating personal connections with these special guests through a fun, shared experience. "I'd hire all of them," expressed one guest. "This is the most fun I've ever had at a nonprofit event," said another.
Activity on the floor took a brief pause to hear remarks. Chelsea Clinton joined in by video to open the program. Reflecting on her impression of meeting Per Scholas graduate Tiffany Lewin, IT Analyst at New York Presbyterian Hospital, Chelsea expressed, "Per Scholas gives me hope that we can tackle our country's hardest problems."
Following was alumnus Allen Wan whose first job ever was at Goldman Sachs following his training at Per Scholas. Allen was joined on the stage by his mentor (and now friend) from Goldman, Alex Goetze. They spoke to the win-win benefit Per Scholas provided them.
The program was closed by Damian Rivera from Accenture, co-chair of the New York Advisory board and long-time supporter.
In under 5 minutes, $10,000 was raised by guests to support Per Scholas' technology job training programs. An investment that will create more high-performing professionals that will provide a more diverse and competitive workforce that ultimately benefits all of us, and our shared future.
Thank you to all who attended. Your support will launch a career, which will impact a family, the employers who benefit, and this city that we all call home.
To see more, watch the Per Scholas video or view photos from the night via our Facebook page. To make a donation to Per Scholas, click here.
Sign up for our Monthly Impact Report
More News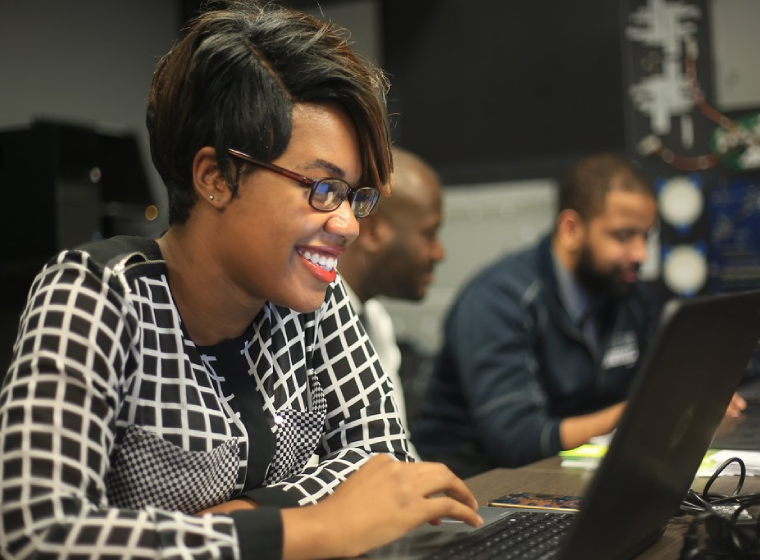 Donate Now
Your support makes a powerful difference in our ability to build a technology talent training solution that creates greater access and equity.