Beta Bash 1.0: A night to celebrate collaboration, innovation and technology in the NCR
"Never doubt that a small group of thoughtful, committed citizens can change the world; indeed, it's the only thing that ever has." – Marty Rodgers of Accenture quoting Margaret Mead in his keynote address at the inaugural Beta Bash 1.0.
October 7, Per Scholas welcomed more than 100 guests — including alumni, partners, employers, and our biggest fans — to the Fillmore in downtown Silver Spring for the first ever Beta Bash 1.0.
Amid the networking and celebration, guests got a hands-on experience of the Per Scholas training by taking the Tech Challenge, a series of challenges developed from the Per Scholas curriculum and administered by the students walking guests through each challenge: Defeat the Board (how to reset a password account), Perfect Your Pitch (deliver your personal job interview pitch) and Connect the World (how to setup a network). Completing the challenge successfully was marked with a formal graduation token, a Per Scholas lapel pin which each student receives upon graduating from the Per Scholas training.
The live program was opened by graduate Chrystal Banks who captivated the audience with her through college, to motherhood, to Per Scholas, and now to a spot in the General Assembly web developer course on a full scholarship. She eloquently relayed the importance of supporting organizations like Per Scholas, saying, "Your being here is so powerful. Your being here matters. It creates opportunity. It changes lives." You can read her full remarks here.
Chrystal was followed by keynote speaker Marty Rodgers, Managing Director of Accenture and Accenture Federal Services. He began, "Like Chrystal, it is my fondest hope that my children will grow up to change the world. If we bet on people like Bridgette Gray and we bet on organizations like Per Scholas, and we have courage to collaborate, we can change communities." Marty inspired the crowd with his person story of his name, explaining that a name defines who and what you are. Per Scholas, he emphasized, means "through education"; and through education, we can achieve anything.
Marty was followed by Managing Director Bridgette Gray, who was glowing from the outpouring of support from the local community. In addition to thanking partners and supporters, Bridgette awarded two organizations, Dynamic Network Solutions (DNS) and MagView each as a Corporate Partner of the Year. Collectively the two firms have hired 20% of the NCR graduates. Accepting the award on behalf of DNS, Jason Coke shared with the crowd, "As a small business, it's really hard to find talent. Per Scholas has changed the way we hire. We get high quality candidates on a consistent basis."
Bridgette then announced the news of Per Scholas and partner Symantec launching a cybersecurity training track for veterans in the National Capital Region in the coming year. Symantec has made a substantial investment in the project as a part of its Cyber Career Connection (SC3) initiative earning them the Innovator of the Year which was accepted by Cheri McGuire of Symantec. Bridgette presented the award with, "Innovation is hard. It's easy to avoid. It's easy to say no. It's hard to put skin in the game and say yes. It is a huge honor to recognize Symantec for saying yes to innovation."
The program was closed by Per Scholas National Capital Region Advisory Board Chair Ed Glabus who rallied the crowd to get involved with Per Scholas in specific ways:
Invest in our training
Volunteer time to work with students to build their professional development
Hire our graduates like the 50+ other companies in the NCR
Become a thought partner and help lead Per Scholas to the next phase of growth
Join our local advisory board to use your leadership to build the future of Per Scholas
There was undeniable enthusiasm from a strong community of champions to expand the impact of Per Scholas well into the future. We thank all of our sponsors — Symantec, Accenture, Capital One, Catholic Charities, Dynamic Network Solutions, IronBow, and MagView; our advisory board, local staff, the event team at The Event Studio, and all the people who showed up to support the work we do.
We will be posting the photos from the evening as well as the photobooth on our Facebook page by next week.
To get involved in our work, you can go to perscholas.org or contact Managing Director Bridgette Gray at [email protected].
Sign up for our Monthly Impact Report
More News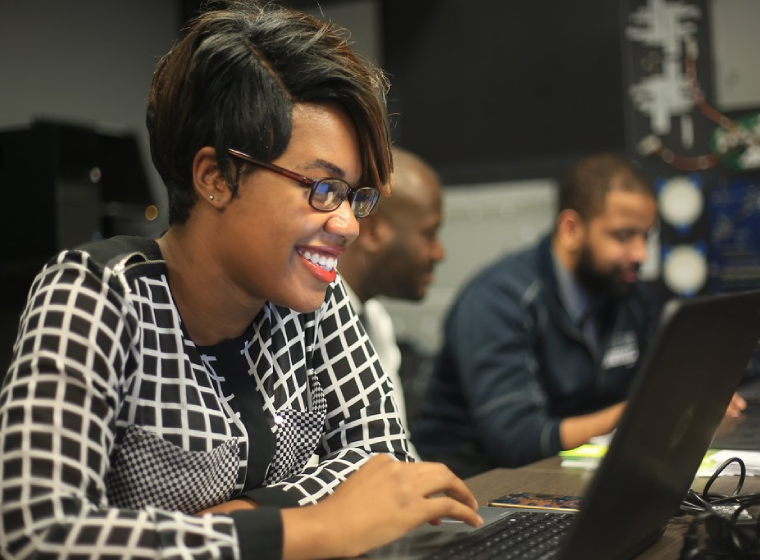 Donate Now
Your support makes a powerful difference in our ability to build a technology talent training solution that creates greater access and equity.