Bridging The Tech Talent Gap In Upper Manhattan Per Scholas and UMEZ Launch a Tech Initiative Creating Pathways to In-Demand Skills and Thriving-Wage Careers
Bridging The Tech Talent Gap In Upper Manhattan Per Scholas and UMEZ Launch a Tech Initiative Creating Pathways to In-Demand Skills and Thriving-Wage Careers
New York, N.Y. (March 27, 2023) – The Upper Manhattan Empowerment Zone Development Corporation (UMEZ) has awarded Per Scholas a $200,000 grant to launch the Technology Sector Employment Initiative in Upper Manhattan collaboratively. This initiative aims to increase economic mobility by bridging the technology skills gap for Upper Manhattan residents and strengthening the capacity of community partnerships to support the development of a local tech talent pipeline.
"With the launch of our Technology Sector Employment Initiative, we are creating an opportunity to advance tech inclusion and bridge tech talent gaps in Upper Manhattan," said Blair M. Duncan, President & CEO of UMEZ.  "We are proud to partner with Per Scholas and our community partners to connect Upper Manhattan residents to thriving-wage careers in tech."
Per Scholas will work with community partners through the UMEZ-sponsored Community Partner Tech Fund to identify and enroll at least 65 residents from all neighborhoods of the UMEZ catchment area, covering the 9th, 10th, 11th, and 12th Community Districts of Upper Manhattan, this year. Interested learners can apply for any course Per Scholas New York offers at its Bronx or Brooklyn campuses and its Satellite partner locations, including the Stanley Isaacs Neighborhood Center at First Avenue and 93rd Streets. 2023 courses offered by Per Scholas New York include IT Support, AWS re/Start, Cybersecurity, Software Engineering, and Java Developer. 
"We are so proud to team up with UMEZ and incredible community partners in Upper Manhattan to continue to expand Per Scholas' reach in our hometown," said Debbie Roman, Per Scholas New York Managing Director. "Through our innovative Satellite Model, we were able to train New Yorkers from all 51 Districts last year, and now through this intentional partnership with UMEZ, our presence and impact will only continue to grow in Upper Manhattan."

Interested Upper Manhattan learners can contact our collaborative network of community partners including Community Impact, Northern Manhattan Improvement Corporation (NMIC), and Urban Upbound to begin the screening and admissions process. If you are a community partner based in Upper Manhattan and interested in participating in the Technology Sector Employment Initiative, please contact Christina Xenos, Per Scholas Director of Strategic Partnerships, at [email protected]. 
Olger Twyner, Executive Director of Community Impact at Columbia University stated, "Community Impact is excited to join this important initiative, which will allow us to partner with UMEZ and Per Scholas to provide life enhancing opportunities to our adult education program participants, as well as other community residents who are upskilling and seeking employment.  The skills and training necessary to join the technology job force are critical. The Technology Sector Employment Initiative will provide those skills and open new opportunities to those who need them most." 
Maria Lizardo, Executive Director of NMIC shared, "All individuals deserve equitable access to education, and that's why we are so thrilled about our upcoming collaboration with Per Scholas, made possible by UMEZ. Through this partnership, NMIC will help recruit those who aspire to work in the technology workforce who otherwise might not have had access to the skills training and employer networks required for long-term employment. We know that through this partnership, future leaders of our community will be taught the skills to build fruitful careers in tech and secure prosperous futures."
"As a leader in the fight to lift New Yorkers out of poverty, Urban Upbound is proud to partner with Per Scholas and UMEZ in creating new paths for Upper Manhattan residents to access the technology job market, a key sector with high-earning entry level jobs. We are committed to advancing our common goal of introducing more women and people of color to tech and bridge the skills gap," said Bishop Mitchell Taylor, CEO and Co-Founder of Urban Upbound.

To learn more about Per Scholas New York and to view upcoming tech training opportunities, visit www.PerScholas.org/NewYork. 
About Upper Manhattan Empowerment Zone Development Corporation
UMEZ is an independent not-for-profit corporation whose mission is to sustain the economic revitalization of all communities of Upper Manhattan through job creation, corporate alliances, strategic investments, and small business assistance.
UMEZ is part of a national Community Development Financial Institutions (CDFIs) network that promotes economic growth by financing businesses, creating jobs, and rebuilding neighborhoods.
UMEZ facilitates economic development in Central, West, and East Harlem; Washington Heights; and Inwood neighborhoods.
About Per Scholas
For more than 25 years, Per Scholas has been advancing equity and increasing opportunity across America. Per Scholas unlocks potential for individuals, communities, and employers through rigorous training for careers in tech. Partnering with dynamic employer partners, from Fortune 500 companies to innovative startups, we are building sustainable and diverse talent pipelines, together changing the face of tech. With national remote training and campuses in 20 cities and growing, Per Scholas offers tuition-free training in the most in-demand tech skills, including Cloud, Cybersecurity, Data Engineering, IT Support, Software Engineering, and more. To date, more than 20,000 individuals have gained the skills to launch high-growth tech careers, earning three times their pre-training wage. Diversity, equity, inclusion, and belonging is our DNA, with 85 percent of learners are people of color, two in five are women, and more than half have a high school diploma as their highest education credential. Learn more by visiting PerScholas.org and following us on LinkedIn, Twitter, Facebook, Instagram, and YouTube. 
# # # 
Sign up for our Monthly Impact Report
More News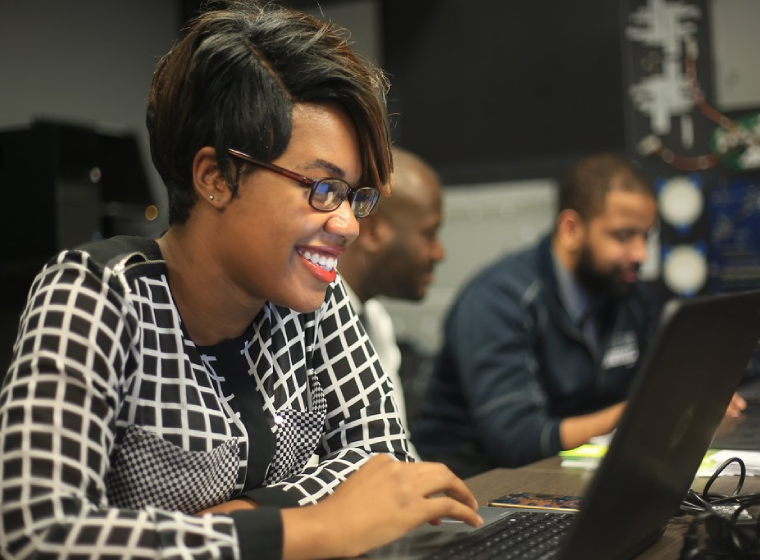 Donate Now
Your support makes a powerful difference in our ability to build a technology talent training solution that creates greater access and equity.