What is Cybersecurity?
Cybersecurity can be defined as the practice of protecting systems, networks, critical programs, and sensitive information from digital attacks. Successful cybersecurity attacks can be incredibly damaging to an organization, both financially and reputation-wise. Therefore, it is important for any organization to possess adequate cybersecurity measures in order to protect themselves and their customers. The demand for cybersecurity professionals has increased significantly in recent years as digital information and technology become more and more integrated into daily work, and cyber threats attacks become more sophisticated. Although the main goal of all cybersecurity roles is essentially the same – to keep data and sensitive information safe – there are definite variations in the different roles within the field, and many options to explore for those looking to start a career in cybersecurity.  
Types of Cybersecurity Jobs
As more and more of our information moves online, the need
for cybersecurity professionals grows. Cybersecurity is in demand in nearly every sector, industry, and field, making the wealth of cybersecurity career opportunities that one can get involved in very diverse. The role of cybersecurity professionals at a certain organization may also vary, depending on the organization's size, type, the systems that it uses, and the nature of the security breach being addressed. Once you have earned your appropriate certifications, it can be difficult to choose which path to follow within the field. Here we will outline some popular roles within the field of cybersecurity – although keep in mind that the specific title of the role may vary depending on which organization it is based at.
Security Engineer
Security Engineers develop, oversee, and maintain their organization's security systems in order to prevent breaches, taps, and leaks of data. They build systems, such as firewalls and intrusion detection systems, to defend against cyberattacks. This role, according to online course provider, Coursera, might involve "implementing and testing new security features, planning computer and network upgrades, troubleshooting, and responding to security incidents." Alternative titles to this position include information assurance engineer, information systems security engineer, and information security engineer.
Information Security Consultant
Information Security Consultants assess the security and potential vulnerabilities of the software, computer systems, and networks of a business or organization and provide solutions and recommendations on security measures and protection. They may work directly with an organization or take on individual clients on a consulting basis. Information Security Consultants essentially play the role of hackers, determining the ways in which security systems could be breached, and then coming up with solutions for those vulnerabilities and implementing them. The roles of Information Security Consultants include "making recommendations for hardware and software upgrades, performing technical tests like AV or penetration tests and malware analysis, and evaluating all the points in the technology environment where information is at risk." They also advise clients on the best security practices for their particular organization. It is important for Information Security Consultants to be up to date on hacking trends, methods, and techniques in order to provide the best level of security.
Incident Manager
Incident Managers are responsible for the upkeep and smooth operation of IT systems. They oversee all steps of the incident management process, from evaluation to resolution. According to Freshservice, "an Incident Manager's job is to respond to incidents when they occur and take any necessary steps to restore service and return the business to normal operations as quickly as possible." They also record all issues, report them to the appropriate teams, and help to design ways to prevent similar problems from occurring in the future. The umbrella role of "incident management" can include a number of different positions, ranging from IT service desk workers, to call centers, to specialized support teams. Some Incident Managers focus on specific types of issues, while others address the range of issues that arise at an organization. Incident Managers interact with a variety of users and systems on a regular basis, making it a good role for those with people skills and a desire to learn new things. 
How Many Cybersecurity Jobs Are There?
The demand for cybersecurity professionals has increased significantly in recent years as more data and work moves online and cyber threats attacks become more advanced. Reports show that cyberattacks against corporate networks increased by 50% in 2021 compared to 2020, and have continued to rise throughout 2022. Not only are the number of attacks increasing, but the associated damage from each attack is also getting worse as attacks become more sophisticated. According to a study by IBM, the average cost of a data breach (taking into account "the expenses of discovering and responding to the breach, the cost of downtime and lost revenue, and the long-term reputational damage to a business and its brand") increased 12.7% since 2020: from $3.86 million USD in 2020 to $4.35 million USD in 2022.
The need for cybersecurity professionals is higher than ever. A report by Cybersecurity Ventures, a cybersecurity research organization, found that the number of unfilled cybersecurity jobs in the U.S. grew by 350% from 2013 to 2021, from one million positions in 2013 to 3.5 million in 2021. Not only are cybersecurity professionals in high demand, the field is a lucrative one. The average U.S. income for an entry-level cybersecurity analyst is $87,853, and salary increases in proportion to skill level. The high demand for cybersecurity professionals and the relatively high salaries for those in the field make it an appealing job option for many career-seekers.
How To Get Started In Cybersecurity
For those looking to enter into the cybersecurity field, specific certifications are necessary to take on most roles. While possessing a traditional 4-year college degree can potentially give applicants a leg up in the job search, certifications are the main requirement for working in cybersecurity. Certification programs are typically shorter and more narrowly-focused than a degree program, making them an ideal choice for those new to the cybersecurity field, and those already in the field, who want to further their careers.
Certifications are not necessarily required for all cybersecurity
roles, but possessing certain certifications indicates to hiring managers that you are proficient in those areas covered by the certification exam. Many companies prefer candidates who have certifications, because it validates knowledge of best practices. Furthermore, because certifications need to be renewed regularly, possessing a valid certification indicates that the candidate's knowledge base is up to date.
Per Scholas provides tuition-free tech training in a variety of IT fields, including cybersecurity. Per Scholas also covers the cost of certification exams, allowing learners to become certified for no personal charge. We currently offer two cybersecurity-related courses, which allow learners to earn either the CompTIA CySA+ certification, or the CompTIA A+ certification – two highly sought-after certifications in the cybersecurity world. These courses, Cybersecurity and Security Fundamentals, are offered at a number of our campuses across the country. To learn more about the tuition-free training we offer and apply to IT courses that will help launch your career in tech, you may visit our website.
CYBERSECURITY: COMPTIA CYSA+ CERTIFICATION
Our Cybersecurity course, currently offered at 12 of our campuses, gives learners the opportunity to earn the Cybersecurity Analyst Certification (CySA+), equipping them with fundamental concepts in security specialities and hands-on training to enter the ever growing field as a cybersecurity analyst. Graduates of this course will be equipped with the knowledge to fulfill a wide range of entry-level technology jobs such as Cyber Security Analyst, Junior Desktop Technician, and Tech Support Engineer.
SECURITY FUNDAMENTALS: COMPTIA A+ CERTIFICATION
Our Security Fundamentals course, currently offered as a hybrid-style course at our Denver campus, provides the opportunity for learners to earn the CompTIA A+ certification, equipping them with cybersecurity fundamentals and hands-on training to gain the initial knowledge and skills to get started in an entry-level security-related role. Security Fundamentals graduates will earn their CompTIA A+ certification and have the opportunity to be hired into a 12- month apprenticeship as a Security Analyst with one of our Activate employer partners.
Sign up for our Monthly Impact Report
More News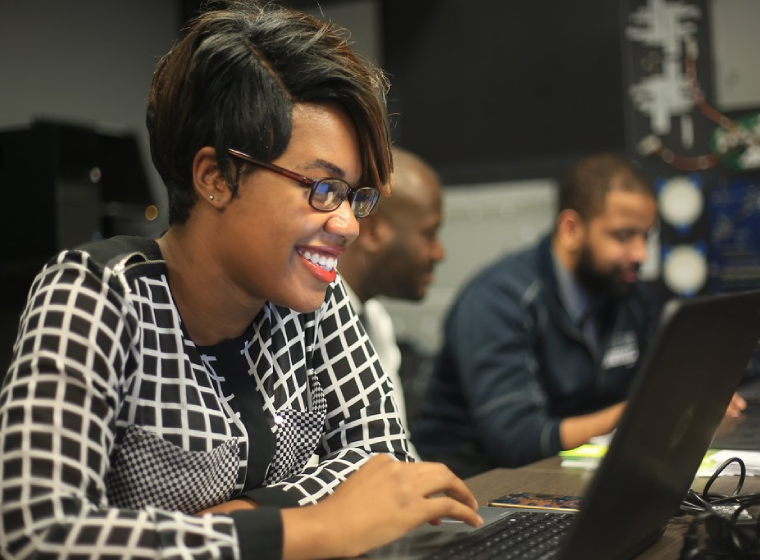 Donate Now
Your support makes a powerful difference in our ability to build a technology talent training solution that creates greater access and equity.