Types of Cybersecurity Certifications
Why do you need a cybersecurity certification?
Cybersecurity can be defined as the practice of protecting systems, networks, critical programs, and sensitive information from digital attacks. Successful cybersecurity attacks can be incredibly damaging to an organization, both financially and reputation-wise. Therefore, it is vital for any organization to possess adequate cybersecurity measures in order to protect themselves and their customers. The demand for cybersecurity professionals has increased significantly in recent years as digital information and technology become more and more integrated into daily work, and cyber threats attacks become more sophisticated.
According to a study by IBM, the average cost of a data breach (taking into account "the
expenses of discovering and responding to the breach, the cost of downtime and lost revenue, and the long-term reputational damage to a business and its brand") increased 12.7% since 2020: from $3.86 million USD in 2020 to $4.35 million USD in 2022.
A report by Cybersecurity Ventures, a cybersecurity research organization, found that the number of unfilled cybersecurity jobs in the U.S. grew by 350% from 2013 to 2021, from one million positions in 2013 to 3.5 million in 2021. Not only are cybersecurity professionals in high demand, the field is a lucrative one. According to Salary.com, the average U.S. income for an entry-level cybersecurity analyst is $87,853, and salary increases in proportion to skill level. The high demand for cybersecurity professionals and the relatively high salaries for those in the field make it an appealing job option for many career-seekers.
Cybersecurity certifications that companies are hiring for 
For those looking to enter into the cybersecurity field, specific certifications are necessary to take on most roles. While possessing a traditional 4-year college degree can potentially give applicants a leg up in the job search, certifications are the main requirement for working in cybersecurity. Certification programs are typically shorter and more narrowly-focused than a degree program, making them an ideal choice for those new to the cybersecurity field, and those already in the field, who want to further their careers.
Certifications are not necessarily required for all cybersecurity roles, but possessing certain certifications indicates to hiring managers that you are proficient in those areas covered by the certification exam. Many companies prefer candidates who have certifications, because it validates knowledge of best practices. Furthermore, because certifications need to be renewed regularly, possessing a valid certification indicates that the candidate's knowledge base is up to date. 
Types of cybersecurity certification programs available 
It is not always easy to decide which certifications to pursue, especially when so many options exist. A good approach is to look at the specific certification requirements or recommendations for a position that you are interested in pursuing. From there, you can decide whether your best course of action is a degree, an academic certification, or a professional certification, and which specific certification would be most advantageous for your goals.  
Academic certification programs
In addition to 4-year degrees, many academic institutions offer certification training programs that are shorter in length, running from a few weeks to a few years long. Academic cybersecurity certifications are designed to provide students with a deep background into some of the current issues in the cybersecurity field, and are ideal for students who hold a degree and are looking to make a career switch, or those who would like to learn more about the field before committing to a longer and more expensive degree program. According to career guidance website Cybersecurity Guide, "academic cybersecurity certification programs are intentionally designed to help students with a relevant background (computer science, mathematics, engineering, or relevant work experience) get specific training and expertise in cybersecurity topics. Essentially, the goal of these certification programs is to bridge the gap between previous experience and the requirements of the cybersecurity workforce."
Academic program prerequisites
Academic certification programs usually don't require as many prerequisites as 4-year degree programs (such as standardized test scores), but they may require that candidates possess a certain amount of academic credits or a degree in another field. Typically, academic certification programs will require at very least one semester's worth of college credit to apply.  
Professional certification programs
Professional cybersecurity certifications, according to Cybersecurity Guide, "are designed
for people already working in the cybersecurity field (or closely-related IT and networking fields) to get trained on some of the latest tools and software to detect, prevent, and combat against cybersecurity issues. These certifications are used to show proficiency with specific technologies." They can also be great tools for entry into the field, such as the CompTIA Security+ certification, which can prepare people for entry-level cybersecurity positions. Professional certifications prepare individuals to take on specific roles within the field. Certification options range from beginner to highly advanced levels, and are ideal for either entry into the field, or leveling up existing skills. 
Professional program prerequisites 
Prerequisites for professional certifications vary based on the specific certification in question. Many certifications, particularly the more advanced ones, require a certain number of years of work experience in a related field. Some of these certifications also either require or recommend earning other adjacent or lower-level certifications before attempting to certify. Certification programs may also require candidates to take specific training programs in order to be eligible for certification. It is important to note the specific prerequisite requirements before attempting to earn any certification. 
Popular professional cybersecurity certifications 
There are many professional cybersecurity certifications available for interested candidates. These certifications range from beginner-level to very advanced, depending on the candidate's existing skill level and what path within the field they wish to follow. We will note some of the most common cybersecurity certifications below, although there are dozens of them available.
CEH: Certified Ethical Hacker
The Certified Ethical Hacker, or CEH, certification is a professional credential for ethical hackers. Obtaining this certification prepares candidates to  look for weaknesses in computer systems and proficiently understand and utilize the tools used by malicious hackers. Recipients of this certification commit to obeying the law and following a code of ethics while using their skills.
The CEH certification is offered by the International Council of Electronic Commerce Consultants, or EC-Council, an organization that offers over 20 different certifications in the field of cybersecurity. According to the EC-Council website, the "CEH v11 [certification] will teach you the latest commercial-grade hacking tools, techniques, and methodologies used by hackers and information security professionals to lawfully hack an organization."
Employing cybersecurity professionals who understand the methods, tools, and practices of malicious hackers is extremely important to the security of any organization, because it enables the security team of that organization to build an adequate defense. 
CEH certification requirements 
Candidates looking to obtain a CEH certification are required to pass a 4-hour, 125-question, multiple-choice exam. This exam "tests for knowledge in five key areas: network reconnaissance, network access, network enumeration, maintaining network access, and disguising evidence of a network breach."
CEH certification candidates must be at least 18 years of age and will need to apply for eligibility before purchasing an exam voucher. In order to be considered eligible, a candidate must have either completed an official EC-Council training course at an accredited training center, via the EC-Council iClass platform, or at an approved academic institution OR have 2 years of demonstrated experience in Information Security.
CEH certification cost
The official EC-Council training course costs $850. For those applying to take the exam without having completed the training, there is a non-refundable, $100 application fee. The exam voucher itself costs $1,199, and retakes cost $450 each.
CISM: Certified Information Security Manager 
The Certified Information Security Manager, or CISM, certification is a professional cybersecurity certification offered by the Information Systems Audit and Control Association (ISACA), an international professional association focused on IT governance that offers 8 main certification programs.
According to the ISACA website, the CISM certification "indicates expertise in information security governance, program development and management, incident management and risk management." This certification, they say, is "designed for those who manage, design, oversee and assess an enterprise's information."
CISM certification requirements 
Candidates looking to become CISM certified must pass a 4-hour, 150-question, multiple choice exam. After passing the exam, candidates must then apply for certification. Candidates must agree to adhere to the ISACA Code of Professional Ethics, which guides professional and personal conduct, and to the Continuing Professional Education (CPE) Policy, which ensures that candidates maintain competency and proficiency over time. 
In order to apply for certification, candidates must also have a demonstrated minimum of 5-years of professional information security management work experience within 10 years of applying for certification. Some substitutions may be made for up to 2 years of this requirement. The ISACA website notes that many candidates choose to take the CISM exam before meeting the experience requirements. While this is acceptable and relatively common, the official certification will not be issued until all of the requirements are met.
CISM certification cost
According to the ISACA website, the exam registration fee for ISACA members is $575, and the fee for nonmembers is $760. There is a $50 application processing fee to apply for certification after completing the exam.
CompTIA Security+
The CompTIA Security+ certification is a professional cybersecurity certification issued by the Computing Technology Industry Association (CompTIA), a non-profit organization that issues many of the industry standard certifications in IT. The CompTIA Security+ certification, according to the CompTIA website, is a global certification that validates the baseline skills necessary to perform core security functions and pursue an IT security career.
It is a base level cybersecurity certification that prepares candidates for entry-level roles in the cybersecurity field. This certification ensures that candidates possess the core knowledge required to work in cybersecurity, and opens the door for them to pursue higher-level cybersecurity certifications and jobs. The certification covers a variety of topics, including attacks, threats, and vulnerabilities, network architecture and design, security implementation, operations and incident response, and governance, risk, and compliance.
Jobs that use CompTIA Security+ include: 
-Security Administrator
-Systems Administrator
-Helpdesk Manager / Analyst
-Network / Cloud Engineer
-Security Engineer / Analyst
-DevOps / Software Developer
-IT Auditors
-IT Project Manager
CompTIA Security+ certification requirements 
Candidates looking to become CompTIA Security+ certified must pass a 90-minute, multiple choice and performance-based exam, with a maximum of 90 questions. "CompTIA Network+ and two years of experience in IT administration with a security focus" are recommended, but not required.
CompTIA Security+ certification cost
The average cost of the CompTIA Security+ exam is $381.
Where to get certified for cybersecurity
Some of the major organizations offering well-known and respected cybersecurity certifications include:
Per Scholas: What We Offer 
Per Scholas provides tuition-free tech training in a variety of IT fields. Per Scholas also
covers the cost of certification exams, allowing learners to become certified for no personal charge. We currently offer two cyber security-related courses, which allow learners to earn either the CompTIA CySA+ certification, or the CompTIA A+ certification. These courses, Cybersecurity and Security Fundamentals, are offered at a number of our campuses across the country. To learn more about the tuition-free training we offer and apply to IT courses that will help launch your career in tech, you may visit our website.
Cybersecurity: CompTIA CySA+ certification
Our Cybersecurity course, currently offered at 12 of our campuses, gives learners the opportunity to earn the Cybersecurity Analyst Certification (CySA+), equipping them with fundamental concepts in security specialities and hands-on training to enter the ever growing field as a cybersecurity analyst. Graduates of this course will be equipped with the knowledge to fulfill a wide range of entry-level technology jobs such as Cyber Security Analyst, Junior Desktop Technician, and Tech Support Engineer.
Security fundamentals: CompTIA A+ certification
Our Security Fundamentals course, currently offered as a hybrid-style course at our Denver campus, provides the opportunity for learners to earn the CompTIA A+ certification, equipping them with cybersecurity fundamentals and hands-on training to gain the initial knowledge and skills to get started in an entry-level security-related role. Security Fundamentals graduates will earn their CompTIA A+ certification and have the opportunity to be hired into a 12- month apprenticeship as a Security Analyst with one of our Activate employer partners.
Become a Per Scholas Learner – complete our eligibility form today!
Sign up for our Monthly Impact Report
More News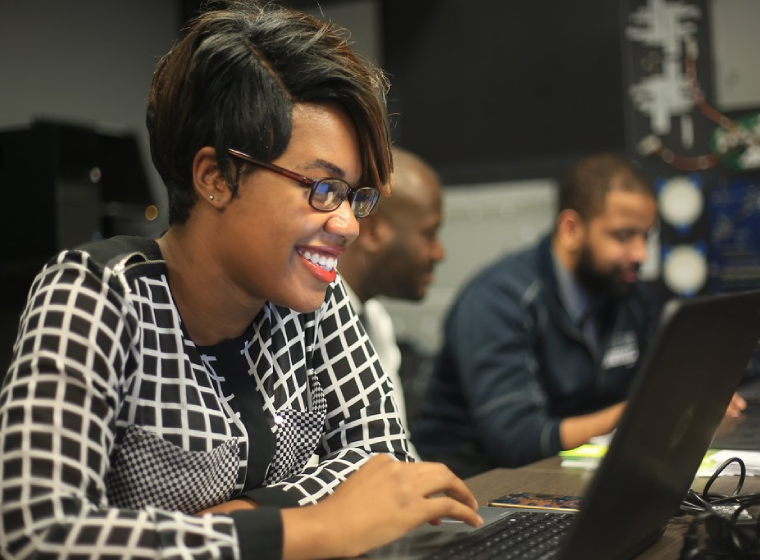 Donate Now
Your support makes a powerful difference in our ability to build a technology talent training solution that creates greater access and equity.