Diverse by Design – Pittsburgh 2018
On Thursday, March 22, 2018, Per Scholas and the Information Technology Senior Management Forum (ITSMF) hosted Diverse by Design, the fifth in a conversation series about building diversity and inclusion in the workforce.
Over 100 leaders representing organizations across the tech, finance and nonprofit sectors gathered at David L. Lawrence Convention Center to engage in courageous conversations about initiatives work to promote diversity in the workplace. Speakers and panelists shared best practices in uncovering unconscious bias in hiring and tactics for C-suite leaders to identify, coach and retain diverse talent across all levels of their organizations.
This page highlights speakers and key learning moments from the event.
WELCOME AND OPENING REMARKS
Matthew Nelson, a Chairperson on the board of the National Society of Black Engineers kicked off the event by welcoming guests to Pittsburgh and discussing the growth of NSBE and the benefits of having a high level talent pool as a resource to outside organizations.
 "NSBE is at the point where we are so big that we can only go to certain cities that can accommodate us. That's a powerful place. 12,600 Black Engineers registered for this years event, the biggest in our 43 year history. This partnership is powerful because we are building a pipeline to talent."
TOWN HALL PANEL
Panelists from the Town Hall highlighted how employers are championing diversity, inclusion and how companies need to be both nimble and courageous to keep pace with the rampant innovation taking place in the sector.
Authenticity in your work, the value you place in yourself, and your commitment to developing your professional skills was a major motif.
"Being authentic is crucial to success for myself, and for the thousands of students- particularly women that entering and progressing in the job market. Be the wind don't let the wind push you" -Errika Moore
"No one starts in diversity and inclusion- people come to you because they see your authenticity. If I can't be who I am in the space that I'm in, then why am I there? It's about reaching back and bringing along someone else." – Tujuanna B. Williams
"Exercise those muscles, I have to nurture the skills I have developed and can't be complacent. You need to take charge. You need to ask for more! Do not undersell yourself"
-Akissi Lewis
IGNITE PRESENTATION
Dena Jones, Director, Securitization and Servicing Technology, Fannie Mae
Continuing the theme of courageous conversations, Dena Jones spoke to partnerships and programs that Fannie Mae is engaging to support inclusivity within the company.
Dena's 4 key lessons to building diverse talent as an executive not working directly In the diversity space are:
1. You need senior leadership support
2. You need a value proposition
3. You need to build your internal and external network
4. It all starts with a question
KEYNOTE PRESENTATION
Yvette Wright, VP, Manager, Program Governance, BNY Mellon
Renee LaRoche-Morris, COO, BNY Mellon Investment Management
During the keynote conversation Renee LaRoche-Morris spoke from an executives perspective. Her poignant observations highlighted the level of accountability that executives need so that their hiring managers have the capability to take on diverse talent. Having a safe space for feedback loops on all levels was elevated to address any underlying biases team members may have with the hopes of putting people at ease by finding common ground and understanding without judgement.
"I want to make sure we are clear, this is about finding the best talent -not the most diverse talent. But if you are looking, than the best talent is diverse" -Renee Laroche-Morris
CLOSING REMARKS
Event hosts Renea Pierre, ITSMF and Damien Howard, Per Scholas closed the event by charging the audience to be courageous, bold and intentional to generate the change needed in the technology sector.
"No such thing as perfection but there is such a thing as proper preparation" -Damien Howard
Sign up for our Monthly Impact Report
More News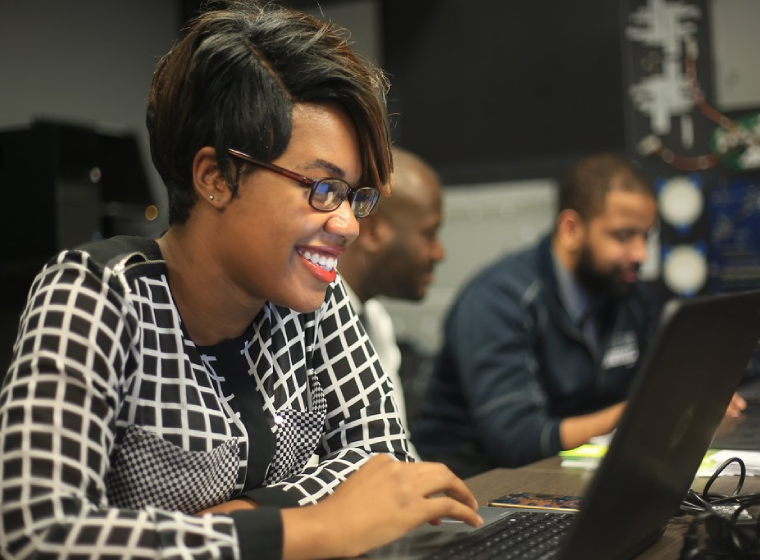 Donate Now
Your support makes a powerful difference in our ability to build a technology talent training solution that creates greater access and equity.