How Women In Tech Are Launching Their Careers
It is discouraging that there are far fewer women involved in IT and tech-related fields than there are men. The latest study by the AnitaB.org Institute found that women make up just 28.8 percent of the tech workforce. Tech, like other STEM fields, has historically had a reputation of being "for the boys," and women face many barriers to entry, including workplace discrimination, unequal pay, and a lack of female tech role models to inspire them. Plus, the pandemic continues to negatively impact women in the workforce, and women of color in particular. Thus, even well-qualified women may be discouraged from entering the field — a detriment not only to those women but to technology as a whole.
Why It Matters & What Can Be Done to Fix Gender Inequity in Tech
Per Scholas is committed to changing the narrative for women in tech. By encouraging and providing opportunities to women learners, Per Scholas is working toward greater gender equity in the tech industry.
To encourage women's involvement in tech, women need to know that success is possible for them in the field, and to see other women thriving in tech positions. "Success in the field is not based on just intellect; it's based on exposure," said Carla Davis, a 2020 graduate of Per Scholas Boston's AWS re/Start course. "Hopefully, I can be some kind of example for others, but it was extremely difficult to get my foot in the door. The instructors and courses at Per Scholas showed me that if I worked hard, it is possible to get the certifications and get the jobs." 
Why Women Thrive in Tech
There is an aspect of support and flexibility that empowers women in the workforce to succeed and do well in their roles. Women are usually caretakers of their household, mothers, and chief operating officers of their homes, which calls for support from their employers in ways beyond financial support.  We know that when women have flexible hours, remote work location flexibility, support for caregiving and child care, they are able to provide for themselves and their families and better focus on their careers and training at Per Scholas. 
Per Scholas Scholarships & Grants for Women in Tech/IT
With generous support from partners, Per Scholas has been able to make real progress in improving the gender balance of our learners. Per Scholas has enrolled more than 1,800 women learners since the start of the pandemic in 2020, and it's a number that only continues to grow.
Last fall, Per Scholas was selected as one of five recipients for the Women in Apprenticeship and Nontraditional Occupations grant, presented by U.S. Secretary of Labor Marty J. Walsh. "For too long, women have faced barriers to gaining entry into apprenticeships and nontraditional careers," Secretary Walsh said at the grant presentation. "As we work to build back a better economy, these grants will empower women to get the training and support they need to secure good-paying jobs and pathways into the middle class. They are an important and effective tool for creating a more inclusive and equitable workforce."
Women in Software Engineering (WISE) Apprenticeship
As a result of this grant, Per Scholas has launched a new Women in Software Engineering (WISE) Pre-Apprenticeship training track from our National Capital Region (NCR) Campus in the Washington, D.C. metropolitan area. With additional support from Capital One, The Boeing Company, and Montgomery County Economic Development Corporation, our first pilot cohort is launching this month. "We have the opportunity to learn so much from our WISE learners," said Diane Duff, Per Scholas National Capital Region Managing Director. "We've received generous support to adjust our already proven model to more effectively address the unique challenges facing women who want to enter the tech industry."
It is incredibly powerful to see our efforts pay off. In 2021, more than 35% of Per Scholas learners identify as women, an increase from the previous year. "I have noticed that there are a lot fewer women in tech than there are men," said Soma Majumder, a 2021 graduate of Per Scholas New York's IT Support cohort. "But from my experience, I didn't feel that there was any barrier when I entered the tech industry; I think a lot of that had to do with Per Scholas and how adamant they were in getting us placed in jobs. I think that I was really lucky to have my career coach and the business solutions team there because they really pushed for me and were really active in helping me get a job."
COVID-19 Recovery for Women in Tech
This International Women's Day, the Franklin County Board of Commissioners in Columbus, Ohio, committed to developing the county workforce to meet a growing demand for technology jobs by voting unanimously to approve a more than $4.5 million COVID-19 recovery grant to support the new Tech Women of Color workforce training initiative at our Per Scholas Columbus campus. 
"We are grateful to the Franklin County Board of Commissioners for providing us the opportunity to be of service to our community, and to our local partners who will come alongside us as we seek to make a transformative impact in this county," stated Jenn Fowler Howard, senior director of the Tech Women of Color Alliance at Per Scholas.  "We recognize that this project will not only change the lives of the women who participate but will also build stronger families, communities, and businesses for years to come." 
Looking to The Future: More Women Learners
We are excited to see the heights our women learners will reach in the coming years as we continue to strive to achieve a more gender-balanced tech workforce. Women can succeed in tech, and we are committed to providing the tools and opportunities for more and more of them to do so. 
"I gained so much from my experience with Per Scholas," Per Scholas Philadelphia alumna Susan Tabassum reflected on her experience in the program. "It reinforced the knowledge I already had in technology, I gained a lot of new skills, and, most importantly, it gave me the confidence to pursue a career in technology, which is what I've always wanted."
Sign up for our Monthly Impact Report
More News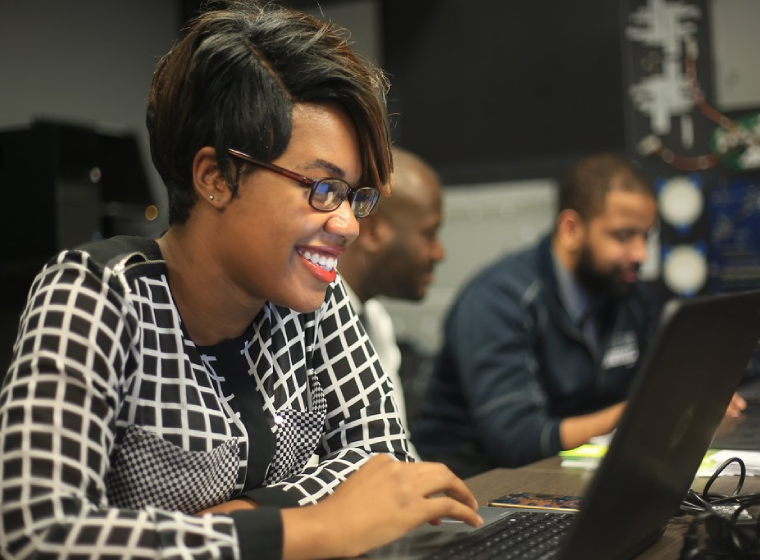 Donate Now
Your support makes a powerful difference in our ability to build a technology talent training solution that creates greater access and equity.