Per Scholas' Women in Tech Training Update
When first considering a career in technology, Per Scholas Graduate Olga Sannikov always felt discouraged to enter the field. She was always interested in tech but did not pursue it academically because it was not popular for girls to do so at her school. This has been a common sentiment among women wanting to pursue a career in technology, and an area where Per Scholas is actively helping change the narrative and increase access and opportunity for women technologists nationwide. 
This month, we began training for our first cohort of women learners enrolled in our inaugural Women in Software Engineering (WISE) pre-apprenticeship program. Hosted by Per Scholas National Capital Region, this course was developed with women in mind and understanding the barriers women face entering the industry. Delivered remotely and on a modified schedule to accommodate household responsibilities, learners have access to evening and weekend office hours, tutoring, mentoring, and career development programming. 
Per Scholas was selected as one of five recipients for the Women in Apprenticeship and Nontraditional Occupations grant, presented by U.S. Secretary of Labor Marty J. Walsh. 
"For too long, women have faced barriers to gaining entry into apprenticeships and nontraditional careers," Secretary Walsh said at the grant presentation. This pioneering training offering for women in tech is also made possible with additional investments from Capital One, The Boeing Company, and Montgomery County Economic Development Corporation. 
"Capital One is passionate about partnering with organizations that are meeting critical workforce development needs," said Kerone Vatel, Head of Community Impact and Investment at Capital One. "Per Scholas is closing gaps in equity and opportunity by providing education onramps and support for underrepresented groups, including women, to pursue careers in technology."
"We have the opportunity to learn so much from our WISE learners," said Diane Duff, Per Scholas National Capital Region Managing Director. "We've received generous support to adjust our already proven model to more effectively address the unique challenges facing women who want to enter the tech industry. I'm thrilled that our first training cohort is underway." 
On International Women's Day, the Franklin County Board of Commissioners committed to developing the county workforce to meet a growing demand for technology jobs by voting unanimously to approve a more than $4.5 million COVID-19 recovery grant to support the new Tech Women of Color workforce training initiative at our Per Scholas Columbus campus. Additional local supporters of Tech Women of Color include The Columbus Foundation, AT&T, KeyBank, and Bank of America. 
"We are grateful to the Franklin County Board of Commissioners for providing us the opportunity to be of service to our community, and to our local partners who will come alongside us as we seek to make a transformative impact in this county," stated Jenn Fowler Howard, Senior Director of the Tech Women of Color Alliance. "We recognize that this project will not only change the lives of the women who participate but will also build stronger families, communities, and businesses for years to come." 
The first Tech Women of Color cohort will be an IT Fundamentals course and begin this summer. If you're a Columbus-based business or employer interested in learning more and joining the Tech Women of Color Alliance, led by Per Scholas, please contact Jenn Fowler Howard at [email protected]. 
We had four women leaders in tech from one of our funders, Capgemini, speak on a panel for Women's History Month as well. More than 60 women participated, and heard from powerful women leaders on topics including the importance of women in tech leadership roles, working through imposter syndrome, and owning the unique skills that women often possess – empathy, kindness, compassion, and more. We also moderated a quick Q+A session at the end of the event where individuals discussed everything from how to find what you want to specialize in tech-wise to how to balance your life as a wife, mom, and professional. 
Per Scholas is grateful to the many funders and supporters who are making intentional investments in women-centric initiatives, including the AT&T; Atalanta Project – Black Family Philanthropies; Bank of America; Boeing; Boone Family Foundation; Capital One; The Columbus Foundation; Franklin County Board of Commissioners; Goldman Sachs; Kate Spade New York Foundation; KeyBank; The Same Sky Foundation Fund, a Division of the Francine A. LeFrak Foundation; S&P Global; TEKsystems; The Women's Bureau at the U.S. Department of Labor; and more.
Sign up for our Monthly Impact Report
More News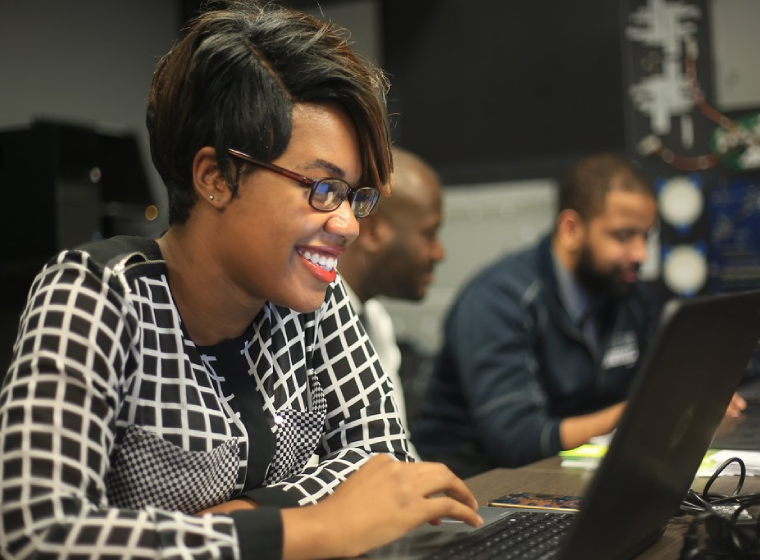 Donate Now
Your support makes a powerful difference in our ability to build a technology talent training solution that creates greater access and equity.