IT job training nonprofit Per Scholas attends Clinton Global Initiative American with commitment to reshore up to 500 jobs with partner Doran Jones
IT job training nonprofit Per Scholas attends Clinton Global Initiative America with commitment to reshore up to 500 software testing jobs with corporate partner Doran Jones.
Media Contact: Jessicah White, (785) 691-6987 / [email protected]
WHAT: Per Scholas, a New York-based national nonprofit that provides free IT job training and job placement to unemployed adults, makes a CGI Commitment to Action in partnership with New York-based IT consulting firm Doran Jones to immediately reshore 150 software testing jobs to the South Bronx and replicate model to additional cities across U.S. resulting in up to 200 jobs reshored in each city.
Per Scholas Executive Director Angie Kamath will attend CGI America June 23-25 with other national leaders to discuss its solution and others toward economic recovery in the United States. CGI Commitments to Action are new, specific, and measurable initiatives undertaken by CGI America commitment makers, leaders from the business, foundation, NGO, and government sectors, to make a positive impact.
At CGI America on June 24, Per Scholas graduate Tiffany Lewin, 22, will speak on a panel moderated by Chelsea Clinton to share her experience as a young adult who bridged the opportunity gap through the job training provided by Per Scholas. Ms. Lewin will be joined on the panel by PTECH Founding Principal Rashid Davis, Siemens Corporation President and CEO Eric Spiegel, and Miami Dade College President Eduardo Padron to discuss youth employment solutions in America.
WHO: Angie Kamath, Per Scholas Executive Director; Keith Klain, Doran Jones CEO of Testing; Tiffany Lewin, Per Scholas graduate and New York-Presbyterian Systems and Hardware Analyst.
WHEN: Monday, June 23 through Wednesday, June 25, 2014
About Per Scholas
Per Scholas is a national nonprofit organization offering free, high quality technology education, job training, placement and career development opportunities to people in underserved communities. Since 1998, more than 4,500 un- and underemployed adults (18+ years old) have enrolled in its job training programs and more than 3,500 graduates have found jobs. Per Scholas is expanding the IT-Ready Network in partnership with the Creating IT Futures Foundation to bring free IT training opportunities to several other U.S. cities. IT-Ready sites operate in New York City, Cincinnati and Columbus, OH; Minneapolis, MN and the National Capital region. The Social Impact Exchange named Per Scholas one of the top 100 nonprofits creating proven social impact in the U.S. The White House in its 2014 report recognized Per Scholas for being particularly impactful serving the long-term unemployed. For more information, visit perscholas.org, review the fact sheet, Twitter @PerScholas and Facebook at facebook.com/PerScholas?_rdr.
About Doran Jones
Founded in 2010 and based in New York, Doran Jones is a technology services firm that specializes in software engineering and testing consulting and outsourcing. Its clients include Fortune 100 banking and financial services firms across the continental United States. Managed by a world class executive team with extensive experience in all aspects of software development and testing, they are backed by a board with a strong track record in financial services and community investment.
Website: www.doranjones.com Twitter: www.twitter.com/DoranJonesInc
About the Clinton Global Initiative America The Clinton Global Initiative America (CGI America), a program of the Clinton Global Initiative, addresses economic recovery in the United States. Established in June 2011 by President Bill Clinton, CGI America brings together leaders in business, government, and civil society to generate and implement commitments to create jobs, stimulate economic growth, foster innovation, and support workforce development in the United States. Since its first meeting, CGI America participants have made over 300 commitments valued at more than $15 billion when fully funded and implemented. To learn more, visit cgiamerica.org.
Established in 2005 by President Bill Clinton, the Clinton Global Initiative (CGI), an initiative of the Bill, Hillary & Chelsea Clinton Foundation, convenes global leaders year-round and at its Annual Meeting to create and implement solutions to the world's most pressing challenges. CGI also convenes CGI University, which brings together undergraduate and graduate students to address pressing challenges in their communities and around the world. To date, members of the CGI community have made more than 2,800 Commitments to Action, which are already improving the lives of more than 430 million people in over 180 countries. When fully funded and implemented, these commitments will be valued at $103 billion. For more information, visit clintonglobalinitiative.org and follow us on Twitter @ClintonGlobal and Facebook at facebook.com/clintonglobalinitiative.
Sign up for our Monthly Impact Report
More News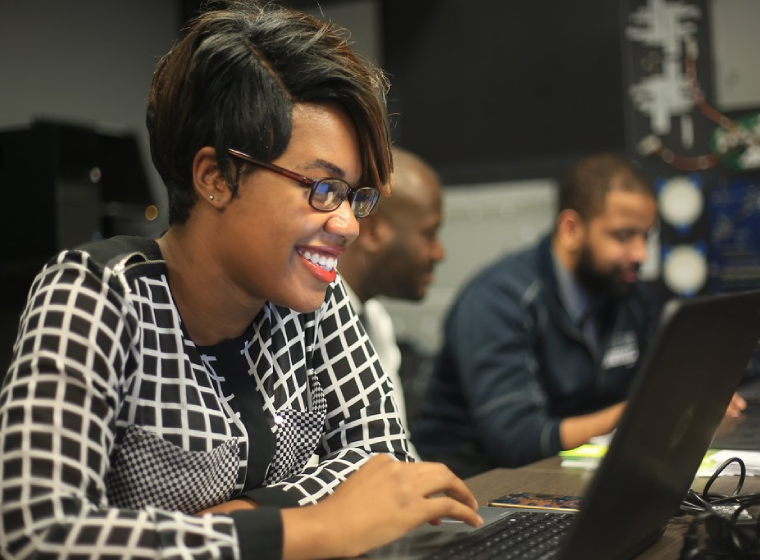 Donate Now
Your support makes a powerful difference in our ability to build a technology talent training solution that creates greater access and equity.