Grad LaQuana's Finds a Way "Up and Out" into the IT Industry through Per Scholas training
LaQuana, age 23, walked confidently into the Park Avenue offices of Kate Spade New York to meet with the Director of the Kate Spade & Co Foundation, Valerie Biberaj. The Kate Spade & Co Foundation is a long-time funder of the Per Scholas Women in Tech course, the course from which LaQuana is a graduate. LaQuana received the personal invitation from Valerie after they met at the Per Scholas New York spring gala.
LaQuana took it in as she walked through the halls. The walls were colorful, the office sophisticated, and not to mention, everyone was dressed gorgeously. LaQuana thought to herself, Wow.
Just a few months before, LaQuana was unemployed and disabled. She was working retail and going to college for Public Administration when she had a fall and dislocated her kneecap. LaQuana could not work or go to school, and was immobile for more than six months. These challenges were increasingly trying because she also had a 5-year-old son to care for at home.
"For those six months, I was so depressed," she says.
This wasn't the first bridge that LaQuana crossed. When she was very young, she lost both her parents and entered the foster care system along with her siblings. They were split up and placed in different homes in New York City for the remainder of her childhood.
"I've had to grow up really fast. But the key is a positive attitude."
So, that's what she did. She researched opportunities for kids in foster care, and found that she could get funding for her college education. "A part of being in the [foster care] situation is learning how to make the most of it," she says. "I learned what I needed to survive."
LaQuana's knee injury, however, prevented her from graduating college and she found herself again on an unpredictable path. She needed to figure out what to do with her life, her career, and her family.
"I needed a place to start. I needed to focus on my future," she says. At this time, her sister told her about Per Scholas, a tech school located not far from her home in the Bronx. A spark was ignited; LaQuana applied immediately.
At Per Scholas, LaQuana joined the Women in Tech class, an all-women cohort of the IT Support course. She found the camaraderie among her fellow female technologists helpful and comforting.
"All the women stuck together. It was wonderful."
She especially loved her instructors, Jose Jurado her Career Coach, and Opo Herrera her tech instructor. Jose's style of teaching is tough, she shares, but he was also a strong male role model in her life. "Jose was like a father figure to me. He showed me I could do it."
She graduated, got certified, and was ready to take on the tech world. "I loved everything from the beginning to the end," she says.
LaQuana got a call for an opportunity she could not pass up: a two-year apprenticeship with Barclays. After a grueling all-day interview, she was accepted.
She gushes, "Working for Barclays is like a dream come true. I get to provide quality service to bankers and other people in the bank. This position was chosen for me. It just fits perfectly."
After a roller coaster of ups and downs, LaQuana is now stable and better than ever. "I have a car. I have an income to support myself and my son," she shares. "My experience has opened my mind up to a lot of things. Per Scholas enlightened me and now I can enlighten others. There's always a way up and out."
Flash forward to LaQuana's visit with Kate Spade & Co Foundation. She was wowed by them. They were wowed by her, too. That day, LaQuana spoke in front of the entire board of the Foundation at the request of Valerie.
"I am willing to do all that I can to help the success of more women joining the IT field," she says.
Now, she and Valerie talk regularly. LaQuana looks forward to what the future will bring.
"It can't get any worse for me, it can only get better. I am so excited and happy for the future."
Sign up for our Monthly Impact Report
More News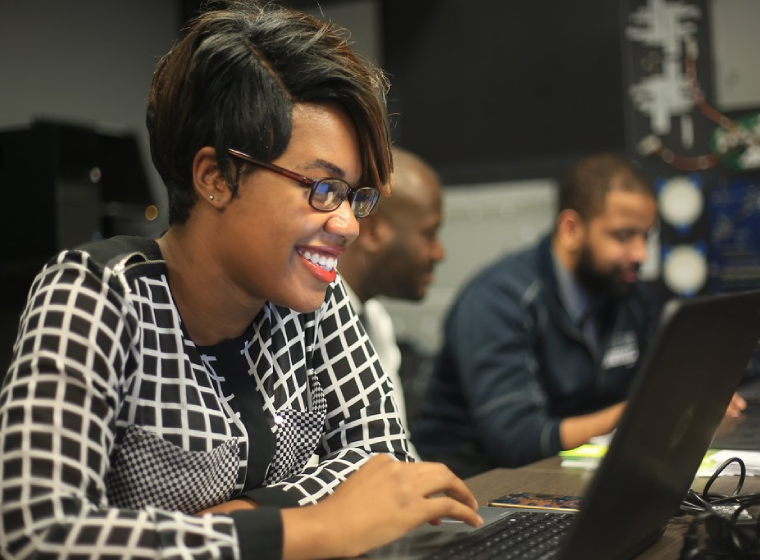 Donate Now
Your support makes a powerful difference in our ability to build a technology talent training solution that creates greater access and equity.