Per Scholas Newark Prepares Local Residents and Community at Large as Latest Emerging Tech Hub
The April 9th grand opening celebration of Per Scholas Newark brought together more than 300 community members, nonprofit and business leaders, Per Scholas alumni, staff and the nineteen students of the site's first cohort. The facility is the third Per Scholas location within the tri-state area, and will provide training and professional development to more than 200 graduates pursuing tech careers over the next three years. Two thirds of these graduates will be Newark residents. Per Scholas' expansion to Newark was made possible through the generous support of Champion Founding Partner Barclays, Signature Founding Partner Prudential Financial, Major Founding Partner PSEG, and Founding Partners AT&T and Guardian Life.
"Newark is experiencing an explosion of technology companies choosing to locate here." says Mayor Ras Baraka. "One of our highest priorities is to ensure that Newark residents benefit from the city's accelerating development, investment and job growth. The decision by Per Scholas to come to Newark is both a confirmation of Newark's technology leadership and a boost to our goal of preparing residents for well-paying tech jobs."
Powered by Champion Founding Partner, Barclay's, Per Scholas Newark contributes directly to Mayor Baraka's Newark 2020 initiative to connect 2,020 unemployed Newark residents to work by 2020. Additionally, the launch of this site comes on the heels of Champion Founding Partner Barclay's recent campus expansion in Whippany, New Jersey less than 20 miles away from the new Per Scholas location. Newark graduates will be key professional talent for Barclays, who has hired over 50 Per Scholas students as apprentices, interns or full-time hires since 2012.
The prospect for sourcing local talent to both Newark employers and regional businesses positions Newark as one of the nation's latest emerging tech hubs.
"We are honored to join the Newark community with the support of so many local employers and organizations," states Kelly Richardson, Managing Director, Newark and New York, Per Scholas. "Newark's commitment to economic inclusion is inspiring, and we will support this commitment as we work in partnership to connect talented Newarkers with the city and region's growing tech ecosystem."
For Kendra Nwokobia, a Newark native and a current student at Per Scholas Newark in the IT Support track, to include Per Scholas as part of Newark's emerging tech sector was a "fantastic idea":
"I think this is great! There's so much talent in Newark that doesn't have the opportunity or the resources to really get out there and pay for college. So not only is Per Scholas providing this training tuition-free, they really do support us. 'Come as you are, you don't need a lot of experience. As long as you have the passion for what we do, just come,' and that's what I love about it."
We would like to extend our thanks and gratitude to all of our local and national partners who are helping to pave to way for many Newark residents and the city at large.
Learn more about Per Scholas: https://perscholas.org
Sign up for our Monthly Impact Report
More News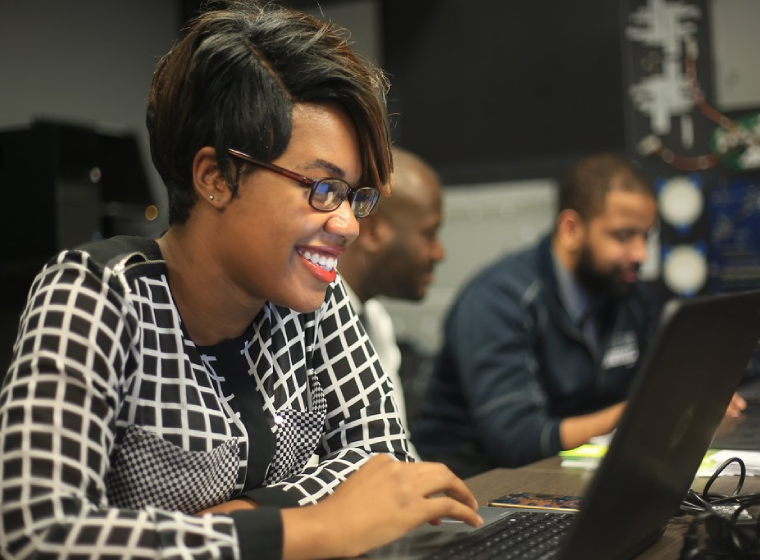 Donate Now
Your support makes a powerful difference in our ability to build a technology talent training solution that creates greater access and equity.