Understanding and Preparing for CompTIA A+ Certification: A Comprehensive Guide
For those looking to enter into the tech field, specific certifications are necessary to take on most roles. While possessing a traditional 4-year college degree can potentially give applicants a leg up in the job search, certifications are the main requirement for many roles in the field. 
Certifications are not necessarily required for all roles, but obtaining certain certifications indicates to hiring managers that you are proficient in those areas covered by the certification exam. Many companies prefer candidates who have certifications, because it validates knowledge of best practices. Furthermore, because certifications need to be renewed regularly, possessing a valid certification indicates that the candidate's knowledge base is up to date.
The CompTIA A+ is the industry standard for launching IT careers in today's digital world, and embarking on the journey to earn your CompTIA A+ certification is a pivotal step towards advancing your career in IT. This credential validates your foundational skills and knowledge in IT as well as your ability to problem solve in real-time, and it equips you with the knowledge to fill a wide range of entry-level technology jobs, making you a desirable candidate in the competitive tech job market. 
Per Scholas offers various courses for those looking to either break into or advance their career in tech. We believe in creating opportunities and on-ramps for aspiring technologists so, in addition to all courses and resources being cost-free to our learners, we also cover the costs of all certification exams, including the CompTIA A+. Our courses prepare students for the certification exams for multiple different types of IT certifications, and our IT Support, Desktop Support, and Security Fundamentals courses provide the training and resources learners need to succeed in the CompTIA A+ exam, and cover all exam fees.
Although the exam is difficult and requires studying and preparation in order to pass, Per Scholas learners are well prepared for the certification process. "It is possible to go from zero to expert, and it has been done over and over again here at Per Scholas," Per Scholas Dallas IT Support Alumni Deji Adefuye reflected. "Even if you don't believe in it, someone else believes it and has done it, which means it is possible for you too."
In this article, we will outline the importance of the CompTIA A+ certification in launching a career in tech, what one can expect on the certification exam, and tips for exam preparation and studying.
Understanding the CompTIA A+ Exam
The CompTIA A+ certification is an internationally-recognized, entry-level qualification in the IT industry. It is issued by the IT association Computing Technology Industry Association (CompTIA), and is widely accepted as an industry standard certification often used to start a career in IT. 
According to CompTIA's website, the CompTIA A+ Core
Series requires candidates to pass two exams: Core 1 and Core 2. These exams cover a wide range of content, emphasizing the technologies and skills tech professionals need to succeed in most entry-level IT positions. The certification exam consists of a combination of multiple-choice questions and performance-based questions, and broadly tests an individual's knowledge of various IT basics. Categories include hardware, software, networking, operating systems, and security. 
Exam format and topics covered
As mentioned above, the CompTIA A+ exam consists of two separate exams, which together cover the broad range of knowledge necessary for most entry-level IT positions. The exam is considered to be "vendor neutral," which means that passing the exam will "prove competence across a wide range of concepts that can be applied to multiple vendors or platforms."
The exam itself is updated regularly in order to keep up with the demands of the ever-changing and rapidly evolving tech field. CompTIA updates each of their exams approximately every three years in order to reflect new industry trends and standards, and to ensure that the information they teach is up to date.
In April of 2022, CompTIA updated their A+ exam from the CompTIA A+ 220-1001 (Core 1) and 220-1002 (Core 2) series, which was released in 2019, to the CompTIA A+ 220-1101 (Core 1) and 220-1102 (Core 2) series. The 2019 exam series has since been retired, and those looking to become CompTIA A+ certified this year and in upcoming years should focus their studies on the CompTIA A+ 220-1101 (Core 1) and 220-1102 (Core 2) series exams – note that both the Core 1 and Core 2 exams are necessary to pass. According to CompTIA's official website, the new exam series places a greater emphasis on the technologies and skills IT pros need to support a remote or hybrid workforce – an increasingly common trend in the tech industry. 
According to the CompTIA website, each of the two exams contains a maximum of 90 questions, comprised of a combination of multiple choice questions (single and multiple response), drag and drop responses, and performance-based problems, which are "exam items designed to test a candidate's ability to solve problems in real-world settings and are delivered as either simulations (approximations of an environment or tool, such as a firewall, network diagram, terminal window, or operating system) or within virtual environments (virtual machines/systems running select operating systems and software in a production environment)."
Comprehensively, CompTIA A+ 220-1101 (Core 1) covers "mobile devices, networking technology, hardware, virtualization and cloud computing," while CompTIA A+ 220-1102 (Core 2) covers "operating systems, security, software and operational procedures."
CompTIA A+ certifications are valid for 3 years from the date the exam is passed, after which the certification will need to be renewed – through participating in specific training courses or obtaining new, higher level certifications – or retaken.
Certifications must be regularly renewed or retaken in order to keep candidates' knowledge and skill sets up to date and relevant in the rapidly changing field of IT.
Read more about what the CompTIA A+ certification contains and what roles it prepares you for here.
Importance of CompTIA A+ for IT Professionals
Earning a CompTIA A+ certification is an incredible launchpad into the wide world of technology careers. The certification validates your expertise and proves to potential employers that you have mastered the knowledge gained through training. There are many advantages to having a CompTIA A+ certification under your belt, and simply earning the certification is often considered sufficient to be hired for an entry-level IT position. Earning the certification can also be a way for those already established in the IT field to level up their skills. As the CompTIA A+ website notes, "CompTIA A+ will either help you get your start in IT or help you get promoted in your current job. It is the industry standard for establishing a career in IT and is the preferred qualifying credential for technical support and IT operational roles."
Being CompTIA A+ certified can make you an appealing candidate for most hiring managers during your job search. According to research by the International Data Corporation (IDC), "96 percent of human resources managers use IT certifications as screening or hiring criteria during recruitment." 
Furthermore, the IDC's research also revealed that once hired, CompTIA-certified professionals typically perform at a higher level than their non-certified peers over time. CompTIA-certified IT professionals were found to possess higher levels of confidence in their own abilities and greater knowledge bases on a variety of topics. They also proved to be more reliable in their work over time and reached job proficiency more rapidly than their non-certified counterparts.
The CompTIA A+ certification is also incredibly versatile. Unlike other certifications that tie you down to specific roles, the CompTIA A+ certification lays the foundation for your tech knowledge, equipping you with universal skills that allow you to pursue any IT career path, as well as positions that are remote, in-person, or hybrid. Plus, the certification is not limited by borders – CompTIA holds international accreditation and is crafted by industry experts, making the skills of those who possess their certifications globally recognized and respected. 
Official Study Resources
There are many courses, study guides, and resources available for those looking to earn their CompTIA A+ certification. 
CompTIA's Official Study Guide
A combination of studying the proper material, completing practice questions, labs, and practice tests are the best ways to prepare for passing the CompTIA A+ certification exam. 
CompTIA offers several resources for those looking to obtain their certifications. For the A+ exam, they offer an intensive, 20-day bootcamp designed to prepare candidates to pass the exam. However, at $3,999 this course is not accessible to many. CompTIA also offers self-paced study guide eBooks for learning material ($678), practice questions ($266), labs ($266), and exam prep bundles ($926 – $1,647), who's cumulative costs may also not be accessible to many exam candidates. 
At Per Scholas, we recognize that the cost of exam preparation and placement is prohibitively expensive to many. We strongly believe in unlocking the potential of our learners by breaking down barriers keeping many individuals from entering into or advancing in the tech field. This is why we cover the cost of all resources, training, study materials, practice exams, and exam fees themselves for every one of our learners, making sure our learners never pay a cent towards our training. 
How to Study for and Take the CompTIA A+ Exam
Most training programs, including Per Scholas, are designed to help you learn every bit of material that will show up on the exam, and will contain labs, practice exams, and guided study to help you prepare. However, it is important to remember that a portion of the exam preparation will also be on you, and will require you to study on your own terms. Studying for any test, including the CompTIA A+ exam can be difficult and daunting but, with the right approach, you can develop a solid study plan to help you succeed. 
The first step in preparing for the exam is to evaluate your current knowledge. Review the concepts you will be tested on during the exam, and identify any areas of weakness in order to organize your study plan. Different sections of the exam bear different weights in terms of affecting your overall grade, so it is important to also determine which sections you will need to focus on. The current exam topics and their respective weights, according to the CompTIA website, are as follows:
CompTIA A+ 220-1101:
Mobile Devices – 15%

Networking – 20%

Hardware – 25%

Virtualization and Cloud Computing – 11%

Hardware and Network Troubleshooting – 29%
CompTIA A+ 220-1102:
Operating Systems – 31%

Security – 25%

Software Troubleshooting – 22%

Operational Procedures – 22%
Set a study schedule for yourself, with emphasis on the areas you are weakest in, and the areas that bear the most weight on the exam. Determine what your best study environment is – alone or in groups, in a public setting or at home, etc. Per Scholas cohorts typically create student-led study groups to help prepare for the exam, which can be a great resource for those who prefer to study with others. While most of our classes bear a large focus on exam preparation, Per Scholas instructors can also offer guidance on methods for self-study outside of class. 
Taking the Exam
The CompTIA A+ is composed of two exams, which must
both be passed in order for a candidate to become fully certified. The two exams, Core 1 (220-1101) and Core 2 (220-1102) are each 90 minutes in length, with no more than 90 questions each.
Once an individual is ready to take the examinations, they will need to obtain a CompTIA A+ voucher for both exams from the CompTIA website, before scheduling each exam at an approved testing location. Typically, the voucher for each exam costs $232, with potential additional fees for exam retakes and training materials. At Per Scholas, all fees are covered, so our students are able to obtain their certifications free of charge.
After obtaining your voucher, you will need to select a testing location. The Pearson VUE website will help you determine an authorized testing center near you to schedule your exam at. CompTIA's exam provider, Pearson VUE, makes Americans with Disabilities Act (ADA) accommodations during certification exams for people who need them and who qualify.
On the day of the exam, you will most likely want to eat beforehand, as there are no breaks. Be sure to arrive early to the testing center to allow enough time for check-in. You will need to bring two valid forms of identification with you, and they must be the original IDs, rather than a photocopy. You can read more about what forms of identification are accepted here. 
You are not allowed to bring personal items with you into the testing room, so be sure to limit what you bring. Some testing centers will have designated space to store test-takers belonging, and you may want to check with your specific testing center beforehand.
The two CompTIA A+ exams must be taken separately, and each exam designates 90 minutes. You will find out your results directly after taking the exam and, depending on whether or not you passed, you will either receive your certification, or reschedule to take the exam again.
It is normal to be nervous on testing day, but remember to try to relax and do the best that you can. 
Ready to Take on the CompTIA A+?
Certifications are an important step in launching an IT
career, as they ensure you are equipped with the knowledge to take on a wide range of tech roles and make you a competitive candidate in the job search. The CompTIA A+ certification is an excellent, industry-recognized way to get started in the tech field by equipping individuals with all the skills necessary for most entry-level tech positions. 
At Per Scholas, we understand that talent is ubiquitous, but opportunity is not. That is why we not only provide free tech training but also cover the cost of certification exams for our learners. Learners in our courses are able to earn a variety of certifications (depending on the specific course they enroll in), including the Google IT Support Professional Certificate, the Cybersecurity Analyst Certification (CySA+), and the CompTIA A+ certification, all free of charge. Our IT Support, Desktop Support, and Security Fundamentals courses prepare learners to successfully pass the CompTIA A+ certification exam, as well as covering the exam fees.
Apply to Per Scholas today! Learn more about the tuition-free training we offer and apply to IT courses that will help launch your career in tech.
Sign up for our Monthly Impact Report
More News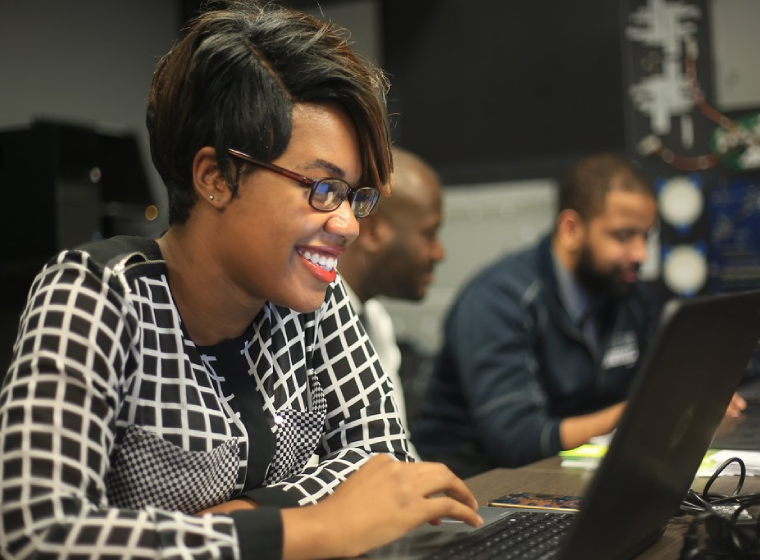 Donate Now
Your support makes a powerful difference in our ability to build a technology talent training solution that creates greater access and equity.