$2.8M Lilly Endowment Inc Grant Supports Goodwill's Collaboration with Per Scholas
$2.8M Lilly Endowment Inc Grant Supports Goodwill's Collaboration with Per Scholas
Grant funds will support the Digital Skills Initiative
INDIANAPOLIS, Ind. (January 23, 2023) — Goodwill of Central & Southern Indiana announced today that it is the grateful recipient of a generous $2.8M grant from Lilly Endowment Inc, which will support Goodwill's collaboration with Per Scholas, a national organization that advances economic mobility by connecting graduates to high-growth careers in technology. Together with Per Scholas, the partnership will bring training and employment opportunities to hundreds of Indianapolis residents in an effort to increase the equity and diversity within Indianapolis' technology sector.
"These funds from Lilly Endowment will help support the ambitious goals of this partnership, and we're thankful to have their support in bringing technology training and employment opportunities to our community," said Kent A. Kramer, president and CEO of Goodwill of Central & Southern Indiana. "We hope our work will inspire additional partnerships that connect individuals with equitable opportunities to access the education and training needed to secure in-demand career opportunities, like those available in the technology sector."
Through an innovative relationship, Per Scholas will become a community partner with Goodwill and the Per Scholas Indianapolis office will operate and offer its tuition-free technical training from Goodwill's headquarters at 1635 W. Michigan St. in Indianapolis. Local resident Theron Wilson has been appointed to serve as Per Scholas Indianapolis Managing Director.
"I am so honored and humbled to serve as the managing director of Per Scholas Indianapolis. Our Per Scholas approach is very intentional, as we aim to bridge the gap between a constantly growing tech sector and the next generation of tech workers. I am a long-time advocate for connecting adult learners to accessible education so individuals have an equal opportunity to change their lives," said Theron Wilson, Per Scholas Indianapolis managing director. "I'm grateful for the opportunity to team up with Goodwill of Central & Southern Indiana, to help improve access and opportunity, and I know we'll accomplish great things together."
Per Scholas has advanced economic equity for more than 25 years by offering evidence-based, tuition-free technology training and connecting Per Scholas graduates to high-growth careers in technology. Aligned with its commitment to diversity, equity, inclusion, and belonging, 85 percent of Per Scholas learners are people of color, and more than a third identify as women. Graduates are hired into tech roles by more than 850 employer partners nationwide, ranging from Fortune 500 to innovative startups.
"We are so grateful to Goodwill of Central & Southern Indiana for the warm welcome to Indianapolis, as well as the incredible support of both Lilly Endowment and Salesforce," said Plinio Ayala, president and CEO of Per Scholas. "Indianapolis is a growing tech hub in America's heartland, and we're looking forward to bringing our best-in-class technology skills training to the city. With Theron at the helm and together with Goodwill, I'm confident we'll grow equity and diversity in Indianapolis' tech sector."
The five-year grant will support Per Scholas' expansion to Indianapolis, the national tech training nonprofit's 20th city. 
"We have seen first-hand the positive multi-generational impact of increasing access to education and employment opportunities in our communities," said Betsy Delgado, senior vice president of education and mission initiatives at Goodwill of Central & Southern Indiana. "Partnering with Per Scholas Indianapolis aligns perfectly with Goodwill's mission and we are excited to be able to offer these opportunities to our community."
The first course Per Scholas Indianapolis will offer is IT Support beginning in March 2023. Applications are due February 27, 2023.
To learn more about Per Scholas Indianapolis, click here. To learn more about Goodwill of Central & Southern Indiana, please visit goodwillindy.org.
###
About Goodwill of Central & Southern Indiana
Goodwill of Central & Southern Indiana changes lives every day by empowering people to increase their independence and reach their potential through education, health and employment. Goodwill serves 39 Indiana counties and operates more than 70 retail locations, as well as charter schools for adults and youth, a maternal-child health program, a child care center and more.
About Per Scholas
Per Scholas is a national organization that has been advancing economic mobility for more than 25 years. Through rigorous training, professional development, and robust employer connections, we prepare individuals traditionally underrepresented in technology for high-growth careers in the industry. We partner with leading employers to build more diverse talent pools, directly connecting our graduates to new career opportunities at businesses ranging from Fortune 500 companies to innovative startups. With campuses in 20 cities, Per Scholas has trained more than 17,000 individuals in tech skills, building bridges to careers in technology. To learn more, visit PerScholas.org and follow us on LinkedIn, Twitter, Facebook, and Instagram.
Sign up for our Monthly Impact Report
More News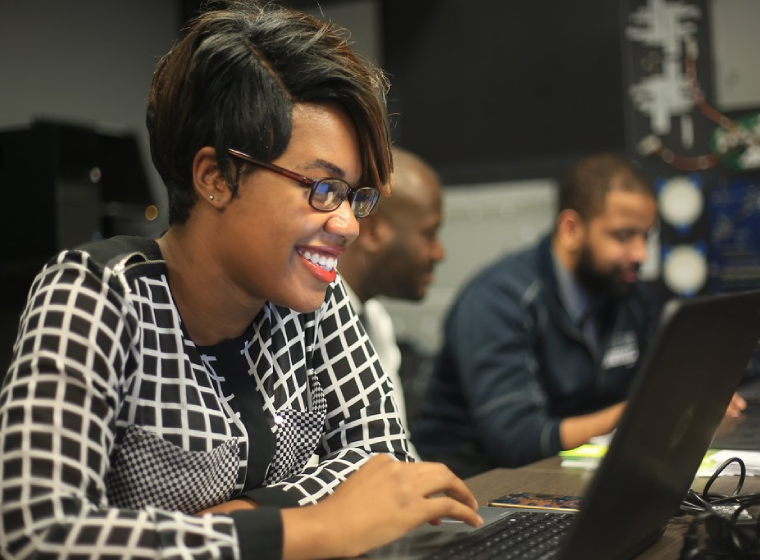 Donate Now
Your support makes a powerful difference in our ability to build a technology talent training solution that creates greater access and equity.