Diversity in Tech: Per Scholas Recognizes Celebrate Diversity Month
April is Celebrate Diversity Month! In addition to celebrating the many accomplishments of our diverse co-workers and learners, it is also a good opportunity to reflect on the state of diversity in the tech world, and what can be done to improve it. Recent years have seen a rise in companies putting more emphasis on the promotion of diversity, equity, inclusion, and belonging (DEIB) within their workplaces – an important movement in all industries and particularly so in tech, a historically white, male-dominated field.
Per Scholas is dedicated to creating a tech workforce as diverse and varied as the communities it serves, and we recognize that there is still a great deal of work to be done in the tech industry in order to reduce discrimination, bolster opportunity, and promote DEIB within the field. According to technology career platform Dice's 2021 annual Equality in Tech report, there are several areas in which the tech industry as a whole still needs to see great improvement in order to become more functionally diverse and inclusive.
The Dice report, which surveyed thousands of technologists in the United States over the course of several months, reported that perceptions of discrimination in the workplace have actually increased, for both female and Black tech workers, from the previous year's report. Lack of leadership opportunities, as well as salary and benefit inequities, were common complaints amongst Black and female workers, who comprise only 7% and 28% of the tech industry, respectively.
All minority groups included in Dice's report indicated that it was important to them for their work to prove commitment to policies and practices promoting DEIB. It is indeed vital for employees of any organization to feel seen, heard, and respected at their place of work. Not only is it beneficial for the individual employees themselves, but it is helpful to the organization as a whole: happy employees are more likely to feel comfortable bringing their ideas to the table and are also more likely to remain with their current employers.
Creating pathways for more diverse talent to get involved in tech is the first step in building a diverse workforce. Most recently, Per Scholas launched a women-only cohort at our National Capital Region campus and the Tech Women of Color Alliance at Per Scholas Columbus, both designed to introduce more diverse tech talent into the industry. Our New York campuses have also adopted a Satellite Model training approach, designed to reach more people amongst the city's diverse communities. Recognizing that age and disability status can also be significant barriers to entry in the tech field, Per Scholas courses have no age limits, and we regularly encourage differently-abled learners, as well as learners of all ages to apply.
How Tech Companies Can Build A Diverse Workforce
There are many ways in which technology companies can work to create a more diverse workforce. Most importantly, companies must realize that, while talent is ubiquitous, opportunity and access to specified and higher education is not. Many factors, including our country's digital divide, racial wage gaps, the pandemic's disproportionate effect on female employment, poverty, systemic inequalities, and even the perception of the tech field as being predominantly white and male, are all barriers to entry for potentially talented individuals seeking to become involved in tech.
Historically, a typical hiring practice in many companies – in and beyond the tech field – would be to filter applicants by only recruiting those with at least a four-year college degree. However, this custom overlooks many talented and qualified individuals who, for various reasons, often beyond their control, have not had the opportunity to earn such a degree. In recent years, a number of companies across the country have pledged to change their hiring practices, offering higher-wage career opportunities to people without four-year college degrees. Participating companies may look to hire applicants from training programs and boot camps, or may adopt the "train to hire" model, which invites potential candidates to come and learn how to do the specific work that the company is hiring for.
"Creating opportunities for prospective team members to participate in bespoke training programs specific to the roles they are seeking is a revolutionary way to treat entry-level candidates as future leaders," Per Scholas' Chief Enterprise Solutions Officer, Damien Howard, wrote in a recent article . "A traditional job posting and interview process instead become a true gateway to professional growth and possibility… incredible tech talent can be readily found by rethinking the traditional requirements and by welcoming candidates to gain new skills and then, once qualified, secure and grow a lasting career in technology."
Incidentally, employees who participate in the "train to hire" model are much more likely to remain with their respective organizations, reducing the turnover rate and increasing employee engagement. With this in mind, as well as general courses, Per Scholas offers customized training tracks, working closely with our employer partners to design job-specific courses that train learners for successful careers in needed areas. Per Scholas also offers upskilling and reskilling courses to help businesses give their employees new or enhanced technology skills.
Another way for tech companies to promote their workforce diversity is to develop their talent pools from the inside out, by offering upskilling and specified training programs designed to create representation, as well as opportunities for those who may have otherwise been overlooked. Tech is a fast-growing, constantly evolving field. By upskilling existing employees or groups of employees in needed areas, a tech company benefits itself by staying up-to-date and responsive to tech and market trends and benefits its employees by increasing their skillsets, experience, and earning potential. This practice also provides pathways to success for employees of all backgrounds and skill levels.
Finally, beyond hiring and training, it is important for a workplace to support and facilitate the growth and development of its budding tech talent by providing mentorship opportunities. Mentorships can help fresh learners make connections, grow their skills, gain confidence, and ultimately pave the way for growth and success in their respective career paths. If done right, this can have the effect of increasing productivity and work quality, while also boosting minority inclusion and representation in the workplace.
How Per Scholas Increases Diversity for Employers
Studies have shown that organizations ranking high in internal ethnic, age, gender, and cultural diversity regularly and significantly outperform their industry peers in terms of financial returns and employee satisfaction. "More diverse companies, we believe, are better able to win top talent and improve their customer orientation, employee satisfaction, and decision making, and all that leads to a virtuous cycle of increasing return," a recent McKinsey report stated. The business case for diversity is strong, as is the social one. It is now up to companies to put in the work to improve the diversity of their workforces, and Per Scholas is happy to help along the way.
Since its launch in 2016, Per Scholas' Diverse by Design initiative works with employers to open a solutions-driven conversation about DEIB in tech. Initially launched as a conversation series, Diverse by Design strives to create "a space where leaders in tech and workforce development [can] come together to discuss and share best practices to attract, retain and develop skilled black and brown tech professionals." Diverse by Design events regularly gather hundreds of attendees in cities all across the country. The initiative is led by a National Advisory Board composed of members from a wide variety of tech-adjacent organizations.
Through thoughtful, focused discussion and personalized input from DEIB experts, Diverse by Design seeks to enable C-suite leaders to make valuable and socially impactful business decisions. Diverse by Design also provides organizations with access to customized training tracks and talent sourcing solutions that allow a company to meet their own talent demands while simultaneously transforming the diversity landscape within their company.
Ignite a Passion for Tech with Diverse Learners
Per Scholas is committed to preparing individuals typically underrepresented in the tech industry for successful careers in tech. An important part of this process, beyond simply preparing learners to launch their careers, is showing people from various minority-in-tech backgrounds that success is possible for them in the tech field, and opening pathways for them to succeed. Per Scholas learners of various ages, gender identities, races, ethnicities, physical abilities, and backgrounds have been able to find success through Per Scholas courses and subsequently launching tech careers. No one should be barred from pursuing a career in tech due to a lack of connection, and the success of our learners serves to encourage others to apply, breaking down barriers to entry in tech.
Many of our female learners expressed an initial hesitation in entering such a historically male-dominated field, prior to taking Per Scholas courses. However, our courses, which typically possess a high percentage of female learners, quickly break down preconceived stereotypes and show women that they can be heard, respected, and successful in tech. Per Scholas Newark learner Dekontee Milfort reflected that she saw the tech industry as one for men, that the men in her family worked in tech, but not any women. "I felt like the IT world was mostly for guys. A lot of the guys in my family – that was the job they were doing. It was a heavily-male role. A friend of mine talked to me about Per Scholas and their diverse graduates, and after looking on the website at all of the graduates, I knew this was the training for me." 
More seasoned technologists also face discrimination in the tech industry, primarily due to ageism. Many believe that tech is a "young person's field," and that older individuals cannot be successful in IT. This is, of course, a totally false assumption and, with the proper training, upskilling, and guidance, those individuals can be just as successful as their younger counterparts. This is proven true over and over by our many brilliant mature learners, who achieve great things both in and beyond our courses. Antwan Grant, who graduated from Per Scholas Atlanta's Software Engineering course in 2021, had initially begun her tech career in 2000. She had not been able to upskill since then and had been stuck doing back-end work that she did not enjoy. "Being in the IT world for as long as I have been, you can get stuck," Antwan, who worried that her age would keep her from advancing in tech, reflected. "Fast-forward 3 months and I have graduated from Per Scholas! I felt so accomplished with everything I was able to figure out – I know now that I can do this! With my old skill set, no one would hire me. Since graduating from Per Scholas, I have had people contact me for jobs right here in Atlanta."
I am very grateful; not only for the opportunities that Per Scholas has presented to me but for the opportunities that they provide to people in communities that don't have the same opportunities that other communities have. — Moja Chatman, Per Scholas New York Graduate
Our learners are all talented and driven individuals, many of them simply lacked prior opportunities to become involved in tech. Moja Chatman, a recent graduate of our Bronx AWS/reStart course, is a born and raised New Yorker. He was always interested in tech but never had the opportunity to pursue it professionally until he came across Per Scholas. Moja landed a job shortly after graduating and is thankful for the doors his training was able to open for him, and others like him. "I am very grateful, not only for the opportunities that Per Scholas has presented to me but for the opportunities that they provide to people in communities that don't have the same opportunities that other communities have," Moja reflected. 
Ultimately, the promotion of diversity, equity, inclusion, and belonging in the tech workplace begins with opportunity and intentionality. The IT field still has a long way to go in order to become a totally diverse and inclusive community, but it is certainly headed in the right direction. Per Scholas is committed to being a driver of this change, transforming the face of technology by opening pathways of opportunity for diverse talent and helping other organizations to do the same. As a champion of diversity, DEIB is in our DNA. 
Sign up for our Monthly Impact Report
More News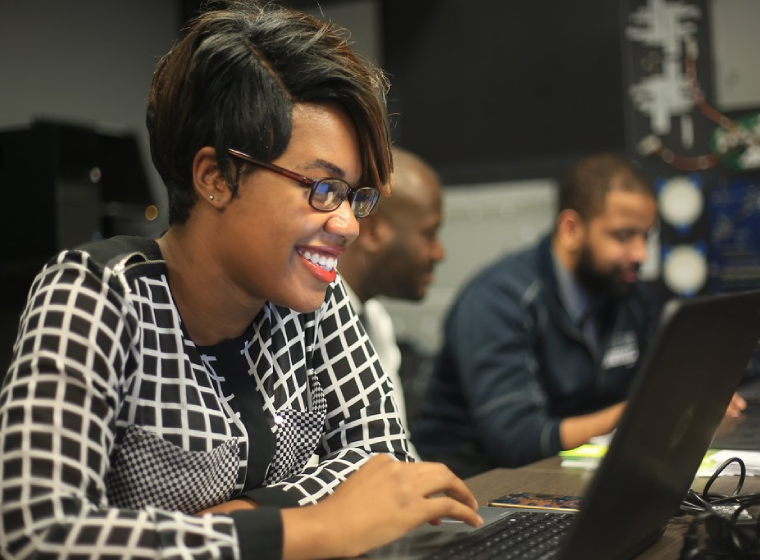 Donate Now
Your support makes a powerful difference in our ability to build a technology talent training solution that creates greater access and equity.